Joey Logano, crew chief Todd Gordon seeking to join elite club with Daytona 500 repeat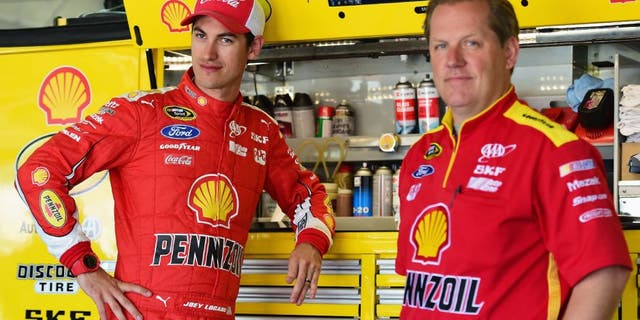 How long has it been since a driver made it back-to-back Daytona 500 wins?
Perhaps a history lesson will best answer the above query.
Bill Clinton was a first-term president of the United States.

There was no Facebook or Twitter.

Dale Earnhardt Sr. was just removed from his record-tying seventh title in NASCAR's top series.

Jeff Gordon had earned just two of his 93 Sprint Cup wins.

Chase Elliott, Gordon's future successor in the No. 24 Hendrick Motorsports Chevy, wasn't even born.

The year was 1995 when long-since-retired Sterling Marlin backed up his 1994 Daytona 500 triumph with a second trip to Victory Lane in The Great American Race.

Since then, no one has captured consecutive Daytona 500 wins, although a few drivers have been close.
The next one to try will be Joey Logano, last year's 500 winner and one of the fastest drivers throughout the 2015 season.

While history might not be on his side, it's pretty safe to say there's nothing -- other than perhaps a Sprint Cup championship trophy -- the Team Penske driver wants more than another Harley J. Earl Trophy from The World Center of Racing.

"I think as a kid, any young racer dreams of winning the Daytona 500," Logano said. "It's the biggest race we have all year. You're down there for two weeks. So much buildup coming into the race, with the qualifying, the Budweiser Duels. You get out there, the first time you've raced in a couple months. There's a lot of anxiety, a lot of nerves before the race."
In 57 editions of the Daytona 500, just three drivers have gone back-to-back. Prior to Marlin in 1994 and 1995, the only others to achieve the feat were Cale Yarborough in 1983 and 1984, and Richard Petty in 1973 and 1974. Petty and Yarborough -- who ultimately combined for 10 championships and 283 wins in NASCAR's top series -- are both now members of the NASCAR Hall of Fame.
For Logano to join Petty, Yarborough and Marlin in such an elite club would obviously be huge for the 25-year-old from Middletown, Connecticut, who last year enjoyed his best overall season as a Cup driver when he won a career-high six races starting with the biggest one of all.

"To be able to pull that car into Victory Lane and see my team there, see my family and my friends, it couldn't be any better," Logano said, recalling last year's Daytona 500 victory. "It's an amazing feeling. I can't really put it into words. It's something that you can't describe. ... An amazing feeling."
Crew chief Todd Gordon said Logano's No. 22 Team Penske bunch began preparing in earnest for Daytona Speedweeks 2016 following last October's Chase for the NASCAR Sprint Cup race at Talladega Superspeedway, the series' only other restrictor-plate track. Logano won that race, making it two victories in the season's four plate races, which gives the team added confidence heading back to Daytona next month.
"The guys after Talladega really started to work on what we can do to be better, yet," Gordon said. "You put so much on it. It's the Daytona 500. It's the quintessential race of our sport. You don't understand it until you've been there, but when they can call you a Daytona 500 champion it's different than any other race that you go to."
Like his driver, Gordon looks back on last year's Daytona 500 with fond memories and hopes to make new ones in February.

"For us last year, it was just a lot of ecstatic feelings," Gordon said. "You look at what we've been able to do as a group and as a team since Joey's been here, and this whole group together, that was checking another box. We hadn't won a speedway race, and we won the Daytona 500, so we've managed to win at about every type of racetrack in our three years together, and that was one that we hadn't done yet, so just pure excitement for the opportunity to be, for all intents and purposes, guaranteed in the Chase at that point.
"It opens your season up to do a lot of things that you don't do until you know you're in, and it's just a pretty cool deal."
A cool deal they both aspire to experience again in just a few short weeks.