Joey Logano comes up painfully short in quest to make Championship 4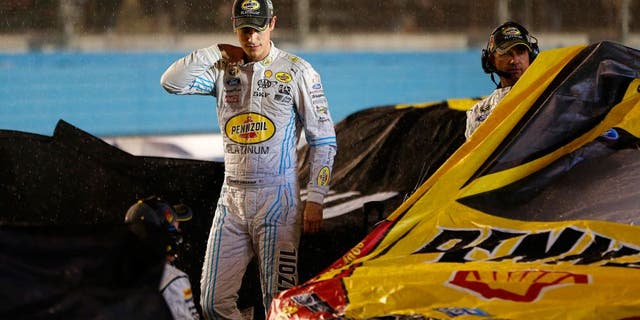 NEWYou can now listen to Fox News articles!
Team Penske's Joey Logano leads the NASCAR Sprint Cup Series with six victories this season, but the driver of the No. 22 Ford will not compete for the championship next weekend at Homestead-Miami Speedway.
When heavy rains hit Phoenix International Raceway late Sunday night, NASCAR officials called the race after 219 of the 312 scheduled laps. Dale Earnhardt Jr. was declared the winner of the race, with Kevin Harvick, Kyle Busch and Martin Truex Jr. joining Jeff Gordon in the Championship 4.
Sitting third on the leaderboard when the race was called official, Logano needed a win to advance to the championship race, but never got the chance to go after the victory.
"Can't control the weather, right? God just didn't have it in the cards for us tonight," Logano said as rain fell on pit road. "Still super-proud of what this team has done, this Pennzoil team, all year. Super-fast race cars. Really produced on the racetrack. Executed our plan. Once again this is a high-pressure race for these guys, and to see us drive to the front and have good pit stops all night, just didn't work out."
Kicking the season off with a win in the Daytona 500, Logano truly came to life once the Chase started. After advancing through the Challenger Round, Logano swept the three races in the Contender Round at Kansas, Charlotte and Talladega.
However, his feud with Matt Kenseth boiled over at Martinsville Speedway when the Joe Gibbs Racing driver wrecked Logano while Logano led late in the race. Needing a big day at Texas Motor Speedway the following weekend, Logano never got the chance to bounce back as a flat tire just 10 laps into the race sent him spinning and to the garage for more than 60 laps.
While Harvick was the class of the field Sunday in Phoenix, Logano was in third, poised to make a charge on the restart when the rain forced the race to be called early.

"I just wanted another shot at it," said Logano. "When you're this close to seeing the lead, you just want one more restart."
Despite not advancing to the Championship 4, Logano is proud of what the team has accomplished this season, and is eager to get to Homestead to try for a seventh victory.
"Overall, I couldn't be more proud of what we've done this year," he said. "We've still got one more race to win. Our heads are still high. It's been a great season. I don't have much to say bad about anything."