Joel Embiid seeking advice from Kevin Durant in advance of second foot surgery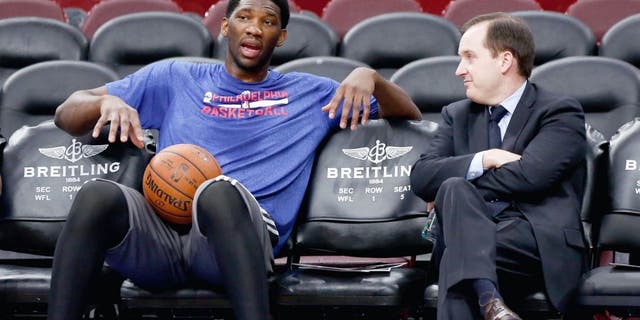 When the Sixers announced back in July that Joel Embiid would require a second surgery on his right foot that would cause him to miss a second consecutive season, it was believed that the procedure would take place as soon as possible in order to expedite the healing process.
But there's been no word from the team since then, and now we may have an indication as to why.
Embiid himself may be delaying the process, according to a report from CSNPhilly.com's John Gonzalez:
"Joel Embiid has not yet undergone a second surgery on his right foot, sources close to the situation told CSNPhilly.com, however, that procedure is still scheduled to take place and Embiid is still expected to miss the upcoming 2015-16 season."
"The holdup has led to speculation in the media. When asked about the delay, one source said it was partly because Embiid -- who is 21 and who, according to president/general manager Sam Hinkie, has been pain-free -- was coming to terms with the decision."
"The source indicated that Embiid and his confidants wanted more time to review the matter and select a doctor. A doctor has been chosen, though the source declined to provide that information.
The source said Embiid also reached out to Oklahoma City's Kevin Durant. The Thunder starunderwent a bone graft on his right foot in late March. That surgery was performed at the Hospital for Special Surgery in New York City, home to one of at least 12 doctors the Sixers and Embiid have so far consulted about Embiid's hyper-complicated situation."
It makes perfect sense that Embiid would want to be as cautious as possible before going under the knife once again. But it would also make sense for the Sixers organization to update its increasingly-anxious fan base as it goes through this process.
(h/t: NBA.com)