Jockey Mario Gutierrez looks to have another win in race for history at Belmont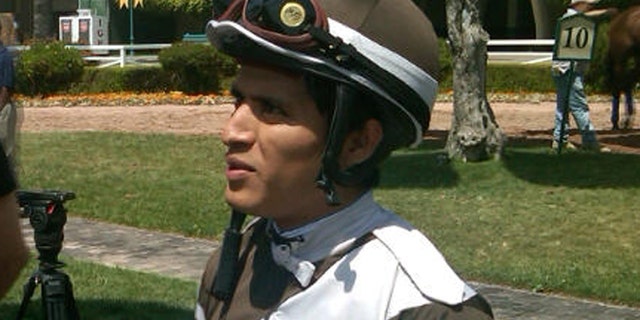 NEWYou can now listen to Fox News articles!
Even though he's the son of a jockey, Mario Gutierrez had never heard of the Kentucky Derby or the Triple Crown until a couple of years ago. Now, the native of Veracruz, Mexico, has won the Derby and after a thrilling victory aboard I'll Have Another in the Preakness Stakes, he's one win away from racing history in Saturday's Belmont Stakes.
"I didn't know too much until I moved from Mexico to Canada," Gutierrez recently recalled. "Then I started to know about names, the Kentucky Derby and all of that."
Horse racing often provides amazing stories, whether equine or human. For the 25-year-old with a soft voice but firm determination, this spring's trip through two-thirds of the sport's classic races has proved to be magical and timely.
Gutierrez was having a difficult time succeeding in the southern California jockey colony that's home to some of the best race riders in the country. "It's tough here. Especially for a new guy to come here. They don't care where you came from. Especially the place I came from -- the small track."
That remote outpost is Hastings Park in Vancouver. Even the most dedicated of horse racing fans would be hard-pressed to identify the low-end track. But for Gutierrez it offered the opportunity to step up from the quarter horses he rode in Mexico to the thoroughbreds that dominate the North American racing scene. It's also the place where he learned English and made friends with two men, Troy Taylor and Glen Todd, who would eventually convince Gutierrez he should move to Los Angeles and compete against the game's best.
But finding mounts capable of winning races has been very difficult. Even with his recent high-profile victories, Gutierrez has just recently cracked the 20-win mark for the year -- a level that top jockeys will pass after only a couple of weeks. Given that lack of success, Gutierrez thought it might be time to give up on his American adventure and return to the comfort of Hastings Park.
"It was tough. I was just waiting to go back to the place I call my second home. I was just waiting to go back to Vancouver. But then something happened. I got to meet I'll Have Another and everything changed. Everything."
It was an arranged marriage between Gutierrez and the 3-year-old who's carried him to glory. The horse's owner, Paul Reddam, saw Gutierrez ride a race and thought the struggling and largely unknown jockey might be perfect for his Derby hopeful.
"The way we operate and the way most barns operate, it's a team effort," explained Doug O'Neill, I'll Have Another's trainer. "If an owner wants to use a certain jockey or doesn't want to use a certain jockey we respect that."
It's turned out to be a perfect fit for four consecutive races -- all victories -- and one more away from becoming the 12th Triple Crown winner. "I believe in my horse 100 percent. And if it wasn't for my horse, I wouldn't even be here talking to you. I give all the credit to the horse. He's the one who's changed my life," Gutierrez humbly told Fox News.
Their first two races together were at Santa Anita Park near Los Angeles and despite those victories I'll Have Another was overlooked by bettors when he won the Kentucky Derby at 15-1 odds. "A lot of people want to hear that I was nervous and I was so emotional and everything," Gutierrez calmly offered before simply adding, "I was focused."
Two weeks later the duo made a furious charge to win the Preakness Stakes, setting the stage for their chance at the triple crown. "[W]e all know how blessed we are to be part of team I'll Have Another," O'Neill said. "But there's no doubt in my mind and I'm 100 percent certain that no other rider could have done what Mario has done since he's been on him."
Gutierrez says he's heard whispers that he shouldn't have kept the mount on I'll Have Another, instead having the ride go to a more accomplished rider. Hall of Fame jockey Kent Desormeaux, who twice failed with a chance at winning the triple crown, was recently quoted as saying he doesn't think the horse or jockey have what it takes to win the Belmont. "A first-time jockey will be lost, I don't care how much you try to explain it," Desormeaux told The Daily.
While not speaking directly to those comments, Gutierrez says he finds motivation in the negativity of others. "Everybody has their own comments, right? Their own opinion. And I can just change the way people think."
The last triple crown winner was Affirmed in 1978. There have been 11 near-misses in the years since, and Gutierrez says he will watch videos of those races to better understand what went wrong and try to avoid those pitfalls. He's also planning on meeting with a pair of retired jockeys -- Richard Migliore and Hall of Famer Jerry Bailey -- to get a better feel for the expansive Belmont track that's nearly three times larger than the one in Vancouver.
"It will be nice for me to feel the track. It's a mile and a half race track. I've never been in that kind of race [track]. I've never been to New York," a wide-eyed Gutierrez explained. "I'd never been to Kentucky, never been to Maryland and I've never been to New York. So everything is new for me."
O'Neill knows that unlike in the Derby and Preakness, where I'll Have Another was not the betting favorite, everyone will have their eyes on him and his horse. He says that he's got all the faith in the world that the horse and jockey will run well.
"Horses just run for Mario," O'Neill said. "I'm not sure exactly what makes that happen, but he just talks to horses and they run for him."