Joc Pederson accepts relegation: 'It's not about me'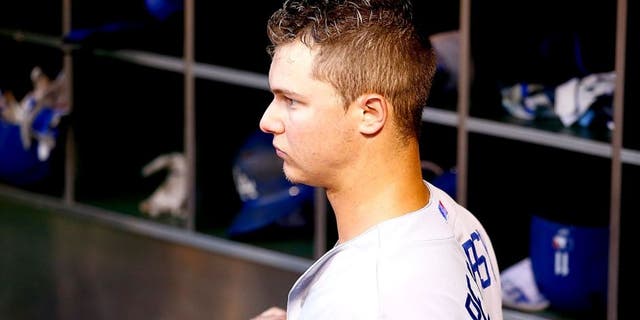 Although he was one of the most exciting players in baseball in the first half of the season, Dodgers rookie Joc Pederson has been mired in an extended slump for the past few months, an attrition that has him riding the pine now.
Despite being a young rookie, Pederson understands why manager Don Mattingly has erased his name from the lineup card.
"We're in a time when we need to win ballgames and put the best team out there and that's not me right now," Pederson said. "I can live with that."
The 23-year-old center fielder began his major-league career with a bang, batting .258/.387/.546 with 13 home runs and 24 RBI through May.
However, as August comes to a close, Pederson is hitting a mere .214/.357/.441 with 142 strikeouts against 84 hits. His power production has declined as well, as he has 23 home runs with 47 RBI through 120 games.
"I think that I really struggled right before the All-Star break and right after," he said. "There were some things that were just baseball. You hit it hard, it goes at them. You strike out a lot. Some things don't go your way. But it's the past. It's not a big deal. I need to continue to grow as a player."
Amid his offensive struggles, Pederson has been replaced in center field by utility player Kiké Hernandez. As the Dodgers enter the final month of the regular season, it's unclear what role Pederson will have in September and beyond.
"I'm not worried; I'm not panicked," Pederson said. "I'm here happy and ready to help the team, whatever it is. It's not about me."
(h/t ESPN)