Joanne Calderwood seeks a new team and hopes for April return to action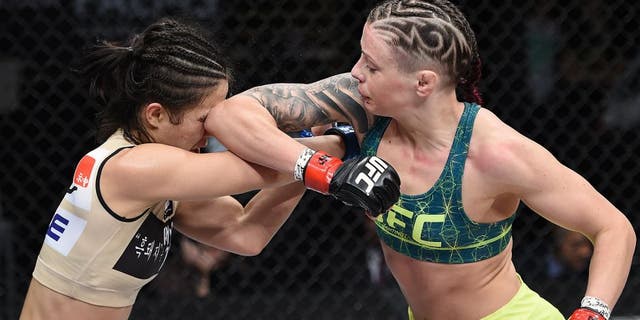 UFC strawweight contender Joanne Calderwood is searching for a new team and she's looking at Tri-Star in Montreal as a possible landing spot before booking her next fight in the Octagon.
Calderwood has trained for most of her career in her home country of Scotland, but according to Ariel Helwani via "UFC Tonight", the former "Ultimate Fighter" competitor is heading to Montreal this weekend to work with coach Firas Zahabi and his staff to see if it's a good fit.
"I want to be around a world-level professional MMA team that will help take me to the next level and be a better fighter," Calderwood said. "I knew I had to change unless I wanted to stay the same fighter, and that is not my case. I want to be the best and I've realized I need to go out there and be selfish and put my best interests first for my career. My dedication and my want for learning would be a waste."
Calderwood wants to get settled and make sure things work out at Tri-Star for about four weeks and then she hopes to book her next fight in April or beyond. Calderwood would become the second female member of the Tri-Star gym after her former housemate on the reality show Randa Markos recently began training there as well.
Calderwood was most recently matched up with Paige VanZant at UFC Fight Night in Las Vegas this past December, but a knee injury forced her out of the fight.
While she's never been the kind of fighter to call out opponents, Calderwood does have interest in one particular fighter, which would also be a rematch from her time on the reality show in 2014.
"I'm not one for calling anyone out as you know but Rose (Namajunas) got my fight and we both got 'Fight of the Season' (on 'The Ultimate Fighter 20') and I think it'd be an even better fight outside the house with her being with her team and me being a whole lot better fighter all around," Calderwood said. "But apart from that anyone"