Joanna Jedrzejczyk wants to be a two-division champion just like Conor McGregor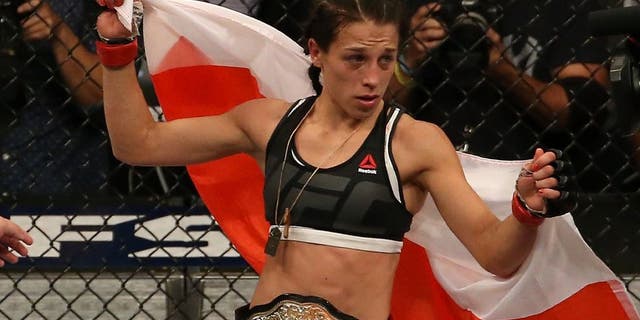 The addition of the women's flyweight division later this year has Joanna Jedrzejczyk contemplating a chance to make history sooner rather than later.
The reigning and defending women's strawweight champion has flirted with the idea of moving up to 125 pounds previously but now that the UFC is set to crown the first ever champion in the division later this year, it's now becoming a reality.
While Jedrzejczyk is laser focused on her title fight this weekend against Jessica Andrade at UFC 211, she can't ignore the possibility of winning a second world title while joining Conor McGregor as the only simultaneous two division champions in UFC history.
"Maybe next year, I will fight for the second belt. Why not? It's a big challenge, probably the challenge of my life. We will see," Jedrzejczyk said on Thursday in Dallas.
Josh Hedges/Zuffa LLC/Zuffa LLC via Getty Images
Of course, Jedrzejczyk expects to get the same blowback that McGregor received when he began serious pursuit of a second world title while already reigning as champion in a different division.
As McGregor went through two fights with Nate Diaz before finally facing Eddie Alvarez last November for the lightweight title, the featherweight division where he was also champion sat somewhat stagnant as contenders were all hoping for a shot at him.
Jedrzejczyk understands that argument, but she also wants to live out her dreams and goals and nothing would taste sweeter than becoming the first woman in UFC history to hold two titles at the same time.
"I remember when I was talking about this division a year ago people were like 'focus on your belt'. I'm going for my fifth title defense. That's the thing, why not? I have bigger, bigger goals and dreams. If I don't win this second belt, nothing is going to happen because like I said, I already reached my goals and dreams, but there is something better coming," Jedrzejczyk said.
"People were saying the same to Conor [McGregor] when he was saying he wants to be a king in two different divisions. Same with me. I just want to challenge myself and this is what I'm doing in my life."
Of course, McGregor promised that he would eventually defend both titles but he never got the chance when the UFC stripped him of the featherweight belt less than a month after becoming a two division champion.
While she can't predict the future, Jedrzejczyk believes she could stay busy and active enough to defend both titles if she's fortunate enough to win a championship at 125 pounds.
"If I became a champion [at] 125, I will be jump between 115 and 125," Jedrzejczyk said. "I want to be the real champion of two different divisions."
Zuffa LLC via Getty Images | Zuffa LLC