Joanna Jedrzejczyk in a tough situation for Ronda Rousey vs. Amanda Nunes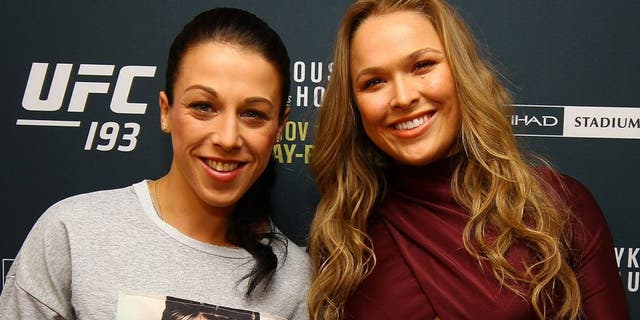 Joanna Jedrzejczyk has always been an admirer of former women's bantamweight champion Ronda Rousey and the two of them eventually became friends while promoting their fights in the UFC.
Jedrzejczyk competed on the same card as Rousey last November when she suffered the first loss of her MMA career with a second-round knockout courtesy of Holly Holm. Afterwards, Jedrzejczyk was very supportive of Rousey and knew that she would be back one day to try and reclaim her throne.
Now, Rousey is back and fighting at UFC 207, but Jedrzejczyk will have to bow out of showing too much public support because she's become a mainstay at American Top Team -- the same gym where Rousey's next opponent Amanda Nunes trains.
Jedrzejczyk is very happy to see Rousey competing again, but she's staying out of the middle of this particular fight now that she trains with Nunes on a daily basis in Florida.
"It's very tough," Jedrzejczyk told FOX Sports about the fight between Rousey and Nunes. "That's why I don't want to talk about it too much. I don't want to put anybody in the shadow when I'm talking about it.
"I respect Amanda, I respect Ronda so much so I don't have predictions for this fight. They are both very good human beings and that's all."
One thing Jedrzejczyk will say about Rousey's return is her belief that the loss to Holm last year won't make or break her legacy in the sport.
In the lead-up to her own fight at UFC 205 this week in New York against Karolina Kowalkiewiczz, Jedrzejczyk has been adamant about retiring undefeated and leaving the sport as one of the most dominant champions of all time.
If those words sound familiar, it's almost the exact same thing Rousey said about her career before facing off with Holm last November.
"There's one big problem what people don't understand is the difference between the words confident and arrogant. Arrogant people are not good and they are not making success. They're not successful. Confident people are people who put in hard work every day. That's why they're the champions. They will become champions one day. This is who I am. This is who Ronda Rousey is," Jedrzejczyk explained. "This is who she was. This is who the champions are. We have more than 500 fighters in the UFC, there are only 11 champions. There are probably thousands of other fighters, why are they not the champions? We are so confident because we put in hard work everyday, but we are not arrogant.
"The thing is we know how hard it is to get to the top and how to stay on top. Ronda proved that so many times. I've proved that so many times. The thing is before every fight, when I walk to the Octagon I visualize my victory. Of course, I want to win but in the back of my head I have those thoughts -- just put on a great fight, show them who you are, put on a great performance, but it doesn't matter if you're going to win, or learn or lose. It's all about the sport. We want to win every fight, but it's a sport. In every sport, we win or we lose."
In Rousey's case, she's lost one time yet there are a ton of questions about her return to action and whether or not she'll ever be the same again.
Jedrzejczyk refuses to judge Rousey based on that one loss, but at the same time she's not exactly going to be rooting for her to win the next fight either considering she's facing off with Nunes in December.
"One time, Ronda lost but she's back," Jedrzejczyk said. "Now she's fighting my teammate Amanda Nunes. I don't have a prediction for this fight.
"I respect both of them. I've known Ronda for a longer time and it's great that she's back and it's going to be a really epic fight."