Jimmy Garoppolo hopes 'good things will come' from his shoulder injury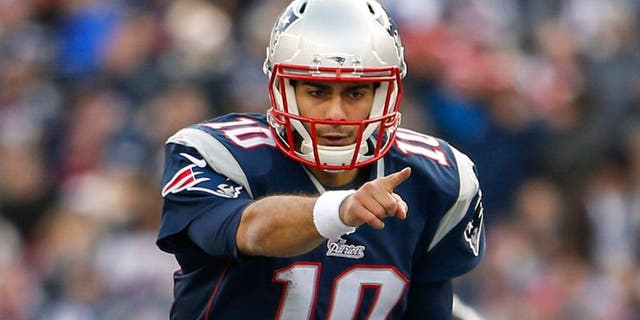 A team almost never benefits from its starting quarterback being suspended four games. Granted, it doesn't happen often, but the New England Patriots were forced to overcome that very scenario this season. They won three of their Brady-less games, mostly thanks to stellar performances by Jimmy Garoppolo.
While the Patriots would have preferred to have Brady for those four games, some good did come out of his suspension. Garoppolo proved he's a capable starter and is worthy of consideration to be Brady's heir.
His run was cut a bit short because of a shoulder injury, which he said "hurt like hell." It was a disappointing end to his season -- barring an injury to Brady -- but he thinks good will come out of it.
"We had a good thing going there for a while ... The first two games went really well, we were rolling," Garoppolo said, via ESPN. "But I always tell myself 'everything happens for a reason.' There was a reason that happened, and hopefully good things will come from it."
Garoppolo doesn't say exactly what "good things" could come from the injury, but here's one idea. He finally showed off what he can do after sitting behind Brady for two years. In doing so, he proved he's in the running to replace Brady when Tom retires from the game of football.
Furthermore, his short stint could have financial benefits, similar to the way Matt Flynn cashed in on his brief action with the Packers, inking a lucrative deal in free agency not long thereafter. Garoppolo is still under contract with the Patriots through next season, so he's not likely to leave until then, but if he never plays another game in New England, he'll still be a rich man.
Until the time comes, he'll remain Brady's backup.
"It's different, but it is what it is. When the opportunity comes up, you're going to get an opportunity at some point, you have to take advantage of it. That's what I tried to do," he said. "Whatever happens from here, we'll see. We have a long way to go with the rest of the season and everything, so you have to be ready, bottom line."