Jimmy Butler says Marcus Smart was only 'acting tough' during Game 4 altercation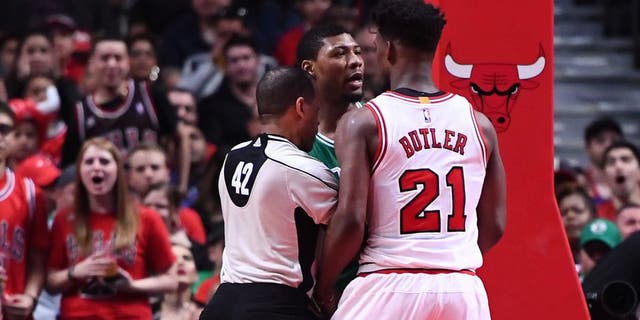 NEWYou can now listen to Fox News articles!
The Celtics evened their first-round series with the Bulls with a 104-95 Game 4 win in Chicago on Sunday, and the postgame press conferences may have been even more entertaining than the game itself.
Jimmy Butler and Marcus Smart got into it during the second quarter and needed to be separated, but it was a minor incident that resulted only in technical fouls for each player.
Butler essentially accused Smart of being a fake tough guy afterward, while issuing a warning that the nonsense needs to stop.
"As far as the Marcus Smart situation goes, he's a great actor, acting tough," Butler said. "It's what he does. But I don't think he's about that. I'm the wrong guy, to get in my face. No. So, he needs to take it somewhere else, because I'm not the one for that."
Butler also said it was the first time Smart had something to say to him.
"Last time, too. We're not going to sit here and get in each other's faces like that. Like I said, he's not about that life, so … calm it down."
This is the time when we point out that Smart was absolutely about that life as a child. In a 2013 feature on him in USA Today, Smart's rough upbringing was detailed, and he regularly fought with others, often times with knives or other weapons.
In other postgame news, Bulls head coach Fred Hoiberg made an unsolicited and somewhat random remark about Isaiah Thomas and the way he dribbles the ball.
"Let me say this: Isaiah Thomas is a helluva player, an unbelievable competitor," Hoiberg told reporters. "He's a warrior, everything he's going through right now. He had a helluva game tonight.But when you're allowed to discontinue your dribble on every possession, he is impossible to guard. He's impossible to guard when you're able to put your hand under the ball, take two or three steps, and put it back down. It's impossible to guard him in those situations."
Thomas has only been whistled for three "discontinued dribble"violations all season long according to Basketball Reference, and the point guard's response was priceless.
David Butler II-USA TODAY Sports | David Butler II