Jimmy Butler reportedly tells Cavs that he intends to stay with Bulls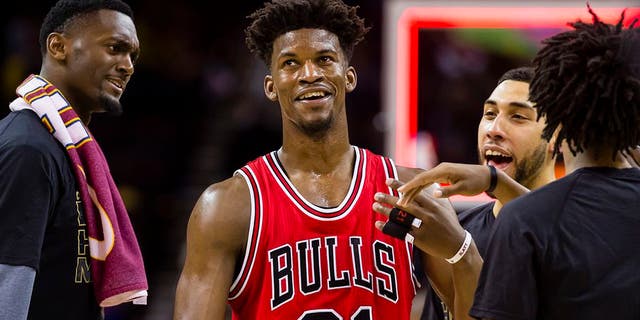 NEWYou can now listen to Fox News articles!
The Cleveland Cavaliers apparently will have one less option to improve their roster. All-Star guard Jimmy Butler informed the Cavs that he intends to stay with the Chicago Bulls rather than be traded to Cleveland, TNT reported Tuesday.
Butler has been the subject of increased trade speculation the past few days as the Cavs have reportedly pursued the 27-year-old shooting guard and Pacers star Paul George. Both Butler and George are considered two of the best two-way players in the game and could provide the Cavs a perimeter defensive stopper they sorely lacked against the Warriors in the Finals.
With Butler off the table, the Cavs likely are now focused on a potential move for George. Cleveland reportedly was in trade talks with the Pacers on Monday night for George before the team announced it had parted ways with general manager David Griffin.
The Lakers and Pacers are also reportedly discussing a trade involving George, who many believe wants to play for his hometown team in Los Angeles.
The Bulls reportedly were informed by Dwyane Wade that he intends to exercise his $23 million player option for next season.