Jimmie Johnson wins at Bristol for second straight Monster win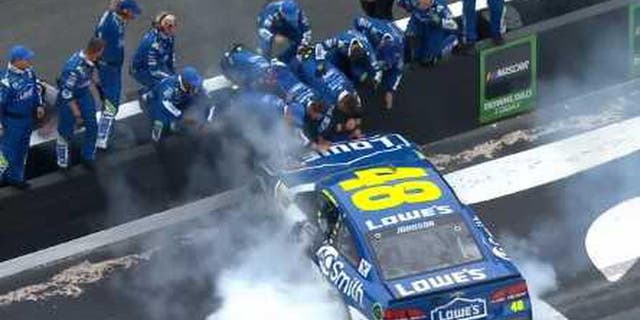 BRISTOL, Tenn. Jimmie Johnson won the rain-delayed Food City 500 Monday at Bristol Motor Speedway, taking his second consecutive Monster Energy NASCAR Cup Series victory.
It was Johnson's second career win at the .526-mile track and his first here in seven years. But it was his second in a row overall in the Monster Energy Series in the No. 48 Hendrick Motorsports Chevrolet after he also won at Texas just two weeks ago.
"Im truly humbled," Johnson said. "Im excited to win back-to-back races. Im excited to win at Bristol.
"I guess well be at Indy testing for the next two days and well show up at Richmond (this coming weekend) and try again.
The race was delayed by one day because of unrelenting rain in and around the Bristol short track.
Kyle Larson started from the pole, won Stage 1 and remained one of the fastest cars throughout the race. But his No. 42 Chip Ganassi Racing Chevrolet was deemed too fast exiting from the pits just before a restart with 73 laps to go, sending him to the end of the longest line.
Johnson grabbed the lead from Denny Hamlin five laps later, but soon started getting pressure from behind by Martin Truex Jr.
They waged an entertaining duel until a caution with 39 to go led to Truex getting nailed for speeding on pit road, taking the No. 78 Furniture Row Racing Toyota out of contention.
Larson, meanwhile, kept coming after his speeding infraction.
By time time there were 23 laps remaining, both Johnson and Larson were closing on leader Kevin Harvick who was on older tires after grabbing the lead by staying out when the others pitted under the same caution that Truex did.
Johnson finally caught and passed Harvick with 19 to go, and then had to contend with an onrushing Clint Bowyer over the final 12 laps. He held him off, too, to claim his second Monster Energy win in a row.
Bowyer had few illusions about catching Johnson over the final laps.
"He's a seven-time (Cup) champion for a reason. He's Jimmie Johnson," Bowyer said.
It was Johnson's 82nd career Cup victory. He's now just one win behind Hall of Famer Cale Yarborough on the all-time wins list, and only two behind Hall of Famers Darrell Waltrip and Bobby Allison.
Thats just mind-blowing," Johnson said. "I wouldnt be here without Mr. (Rick) Hendricks support. Thanks to him and to (former Hendrick teammate and car owner) Jeff Gordon for believing in me. For Hendrick Motorsports to make this job kind of a family environment for all of us to thrive in has been a perfect environment for me and (crew chief) Chad Knaus and for the consistent group of guys behind me through all these years. (It) has led to the environment to win 82 races, or whatever it is, which is just insane."
Much earlier in the day, five-time Bristol winner Kurt Busch encountered trouble as he lost the front end of his No. 41 Stewart-Haas Racing Ford on Lap 55 and hit the inside SAFER barrier.
By the time he returned the race, the elder of the racing Busch brothers was four laps down.
Also caught up in the early incident was Chris Buescher, who sustained enough damage to his No. 37 JTG Daugherty Racing Chevrolet that he was unable to continue in the race.
I tried to get on the brakes and it just wheel-hopped, said Buescher, who already was in a backup car.
Stage 1 of the race was won in dominating fashion by Larson, who led all 125 laps after starting from the pole. It was the 14th time in 15 stages on the season that Larson, the series points leader coming in, has finished in the top 10.
Less than 100 laps into Stage 2, Dale Earnhardt Jr.s day came to an early end.
As the field got up to speed on a restart on Lap 218 of the 500-lap Monster Energy NASCAR Cup Series race, Earnhardts No. 88 Hendrick Motorsports Chevrolet went straight into the wall in Turn 1 after the oil cooler in his engine appeared to break loose.
We came out of the pits and there was some oil in the pit stall, Earnhardt told FOX Sports. I noticed when I was getting lined up double file (for the restart), it started smoking. I dont know why.
But we got oil all over the engine compartment. And when we got to the corner, it went straight into the wall.
There were a number of other incidents: an ill-advised attempt to go three-wide by David Ragan led to him wrecking himself and Danica Patrick; Kyle Busch hit the wall twice, the second time hard enough to knock the younger Busch brother from the race; and with 80 to go, rookie Erik Jones had a tire go down and hit the outside wall, taking AJ Allmendinger with him.
And with 39 laps left, Kasey Kahnes car slowed in the outside lane and Paul Menard could not check up quickly enough behind him.
That brought out the ninth caution of the day and set up a chess match for the end.
Leaders Johnson and Truex came in for fresh tires, but Harvick and Hamlin stayed out. Truex beat Johnson off pit road, but was penalized for speeding.
That set up the battle to the finish between Johnson, Larson, Harvick and eventually Bowyer, who snuck into the mix with 12 to go.
Harvick ended up finishing third behind Johnson and Bowyer, with Matt Kenseth and Joey Logano rounding out the top five. Larson ended up sixth and Truex eighth.