Jimmie Johnson ties late Dale Earnhardt's record with 76th victory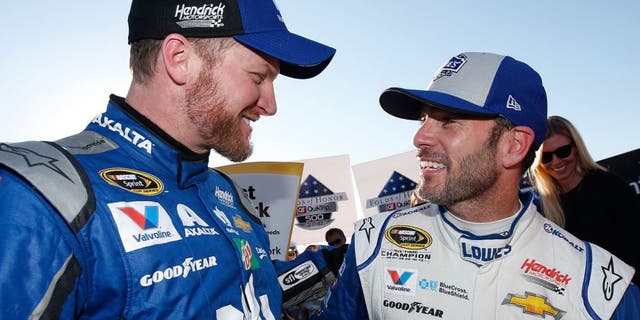 With his dramatic victory in the Folds of Honor Quiktrip 500, Jimmie Johnson tied the late Dale Earnhardt with 76 NASCAR Sprint Cup Series race victories, seventh on the all-time list.
And afterwards, Johnson did the right thing, taking a victory lap around Atlanta Motor Speedway with three fingers out the window to salute the late seven-time champion.
"I entered the sport just hoping I could win a race and keep a job for a few years, and to have 76 and tie Dale Earnhardt Sr. is something I'm very, very proud of," said Johnson, himself a six-time champion. "I didn't have a chance to race against him, unfortunately, but today -- there's been a big void in my mind about not having that chance to race against him, and it was literally a handful of months away from having that opportunity.
"So to tie him today, for myself personally, it gives me a little something -- it's a little bit of attachment to the great Dale Earnhardt and something I'm very proud of," said Johnson.
Johnson also talked with his Hendrick Motorsports teammate, Dale Earnhardt Jr., about tying the record.
"I just made sure that I spoke to Junior a little bit, and he shared with me that he really feels like his dad would have had a ton of respect for me and would have enjoyed racing against me, and we would have had a great friendship," said Johnson. "Kind of covering that base with Dale a while ago helped me."
Johnson had plenty of support on his team.
"God, it's amazing," said his crew chief, Chad Knaus, who made the pit call that won the race for Johnson. "Jimmie is pretty awesome, isn't he? Let's be honest, he's just a heck of a race car driver. He's a lot of fun for me to work with."
"I think when you look at Jimmie's career and you look at how quick he's gotten to 76 and he's got six championships, I think you've got to say that he's one of the best that's ever been in the sport," added team owner Rick Hendrick. "You know, it means a lot to him and a lot to all of us. We're all big Earnhardt fans, but it's going to be interesting to see how many races and championships Jimmie and Chad can win."
All-time NASCAR Premier Series victories
Richard Petty, 200
David Pearson, 105
Jeff Gordon, 93
Bobby Allison and Darrell Waltrip, 84
Cale Yarborough, 83
Dale Earnhardt and Jimmie Johnson, 76