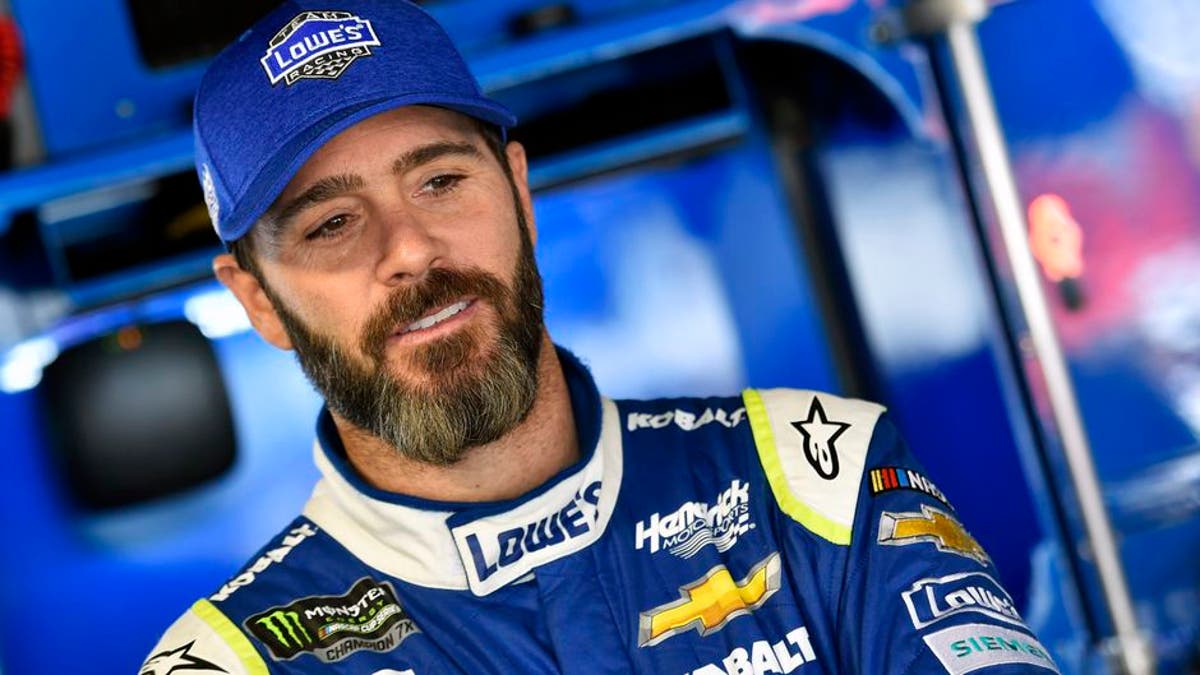 BRISTOL, Tenn. The last time Jimmie Johnson met with the media prior to this weekend at Bristol Motor Speedway, he was fighting off the ill effects of dehydration.
Of course, he was in a pretty good mood, too.
Despite being dehydrated, he had just won the Monster Energy NASCAR Cup Series race at Texas Motor Speedway. After cramping up while doing a post-race radio interview on pit road at TMS, Johnson had to be carted off to the tracks infield care center where he promptly was pumped full of fluids intravenously.
As it turns out, that was only the beginning of Johnsons re-hydration plans during NASCARs rare weekend off that followed.
Yeah, the three IV bags did wonders, he said Friday at Bristol, where he is preparing for Sundays Food City 500. After leaving the (Texas) media center, I started my off-weekend quickly that night and proceeded to chase out the pain with as many margaritas and beers as I could down in Mexico.
I recovered well, but unfortunately came back sick from Mexico and Im just on the tail end of that now.If you are going to play you are going to pay I guess at the end of the day.
Now Texas and Johnsons Mexico vacation are in his rear-view mirror.
Johnson, who won his record-tying seventh NASCAR Premier Series championship last year, is seeking only his second career win at Bristol. His only previous victory at the .526-mile short track came in the spring of 2010 although he has seven finishes of seventh or better since then, including a second in the fall of 2012 and another runner-up finish in the spring of 2015.
So after struggling more at BMS earlier in his career, Johnson seems to know his way around Thunder Valley pretty well now. Or at least as well as a driver can after the concrete has been resurfaced once and reconfigured twice since 2007.
John K Harrelson | John K Harrelson/LAT Images www.latphoto.co.uk
The latest twist to Bristol is the application of VHT a traction adhesive compound designed to give better grip to the lower groove on the track that last had its banking reduced in 2012.
Johnson appeared to be finally figuring it out in Saturdays final practice for Sundays race, but it took him a while.
He ran a total of 77 laps, registering a top speed of 128.168 miles per hour that ranked fifth-fastest on the speed chart. He also had the top speed recorded over 30 consecutive laps, which is significant at a place where theyll make 500 circuits on Sunday.
All of which is why Johnson is not one of those drivers complaining about Bristols VHT application.
I think we are all looking for a variable condition here, just to change it up because we know the top (groove of the track) is the place to be, Johnson said. For me personally, its been one of the more difficult tracks for me to figure out.I welcome any change that might be thrown at us and any opportunity to create different lanes and searching around the race track.
For me, I find it more as an opportunity. For guys who run consistently up front here every year, maybe they are not as excited as somebody in my shoes.
Johnson said he realizes the extra grip in Bristols bottom groove generated by the VHT likely will go away during Sundays long race. But he said he hopes to take advantage of it while he can.
During the course of a 500-lap race I think our issue is we literally just run it off and use it up, Johnson said. At the start of a race, I think the lanes are more equal. But at the end of the race there is really not much you can do for that.
I think in dreamland some of us drivers have considered like some kind of grip strips that exists if you could use a painted line. I commend Bristol for trying in that wish-land space to try and do something here at the bottom.
Meanwhile, Johnson admitted he especially enjoyed the week off. He said he knew he was going to have to battle getting over his dehydration whether he won or lost at Texas, but it was much more enjoyable doing it after going to Victory Lane.
Damn straight, said Johnson, laughing. We would have been drowning sorrows instead of celebrating and enjoying it. There is no better way to go into an off weekend than with a win or a strong run, strong performance because we all sit inside of our heads and think about where we are at, what is going on.
We had a tricky start to our season, to say the least. To punch our ticket for the playoffs and get that win made for a great weekend.