Jim Harbaugh to Ohio State: 'Consider things even' for now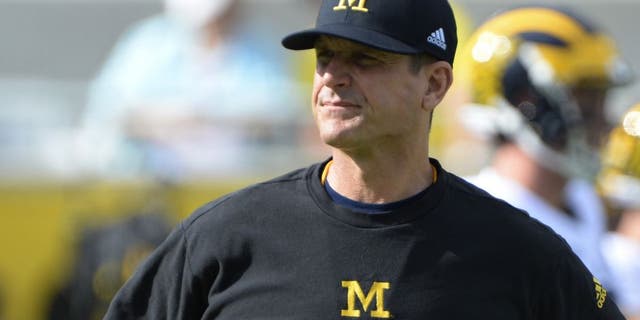 Jim Harbaugh's Twitter beef with Ohio State is on ice... for now.
The Michigan head coach went after Ohio State athletic director Gene Smith after he said: "If we were jumpstarting our program I'd probably try and do that, too" in reference to Harbaugh's spring break practices in Florida, by tweeting this zinger:
It set off a social media firestorm amid spring practices. Ohio State players and fans responded accordingly, but now, Harbaugh wants to call the feud off.
"It felt like one got shot over our bow," Harbaugh told the Detroit News. "It wasn't a knee-jerk reaction. I waited a good eight, nine hours and figured they might consider that it could be construed a certain way toward our program. Actually some of the scribes and pundits were construing it that way. So when no explanation came, thought it was time to fire one over their bow.
"Consider things even right now."
Will it simmer things down? Of course not. These two teams can't help but get after each other, and Harbaugh isn't likely to be less outspoken -- especially on Twitter -- moving forward. This is merely a sabbatical before another wonderful, entertaining flare-up.