Jim Harbaugh to deliver commencement address at New Jersey high school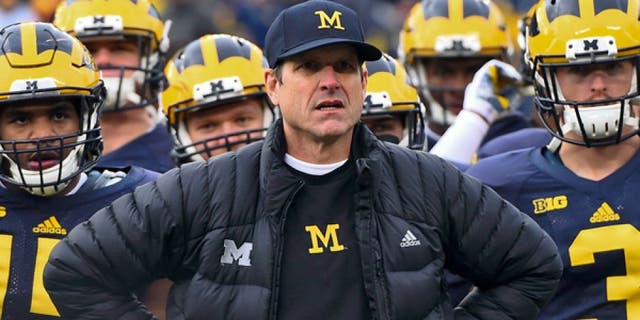 When the NCAA banned satellite camps late last week, the ruling was in essence, one giant slap in the face to Michigan's Jim Harbaugh. After all, no coach (outside of maybe Penn State's James Franklin) had exploited the rule, which allowed major college coaches to hold summer camps in different parts of the country, quite like Harbaugh did last year.
However, with satellite camps serving as a thing of the past, it hasn't stopped Harbaugh from finding himself in the headlines again Monday and finding a new way around the NCAA's recruiting rules.
That's because, as NorthJersey.com reported Monday, Harbaugh will serve as a commencement speaker at Paramus Catholic High School in New Jersey this spring.
Now on the surface, that seems like no big deal ... at least until you realize that Paramus Catholic is a football power, one that not only produced the top high school player in the country this year (Rashan Gary, who ultimately signed with Michigan) but also has at least two players the Wolverines are recruiting in the class of 2017.
So yeah, Jim Harbaugh isn't simply making this speech because he believes in the merits of education.
At the same time, if you think the school chose Harbaugh simply because he's one of the best coaches in football, think again.
Here is the real reason, according to school President Jim Vail who spoke to NorthJersey.com:
"Commencement is an academic ceremony. It's not connected to athletics," Vail said, according to NorthJersey.com. "But I have gotten to know Coach Harbaugh pretty well. I'm not a football guy, but I know a great educator when I see one, and he always impressed me as a great educator and great leader."
Hmm, interesting ...
Whether you believe Vail (and you probably should, since there's really no reason for a school administrator to lie about something like this), at the least, you've got to give Harbaugh credit for once again tip-toeing around the NCAA rulebook to get access to some of the best high school football players in the country.
Again, this was the man who put together that six-camp, five-state satellite tour last spring (going shirtless in the process), and who also ruffled all sorts of feathers when he brought his team to IMG Academy --- another local powerhouse --- to conduct spring practices just last month.
Now he's giving a high school commencement speech, where not only will one of his future players be in attendance, but plenty of big-time recruits as well.
It's vintage Harbaugh, and in case you're wondering, yes, entirely legal according to NCAA rules.
Paramus Catholic actually asked Harbaugh to do the speech months ago, but he didn't agree until it was cleared by Michigan's compliance office.