Jim Furyk on fire in second round, builds big lead at Firestone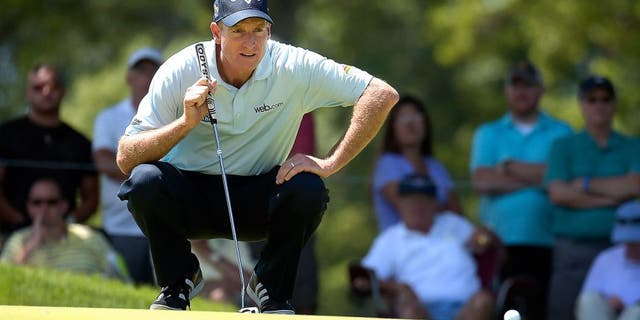 AKRON, Ohio
Jim Furyk still sees more birdies than blunders in the 15 years he has been coming to Firestone.
It's a course he likes. The Bridgestone Invitational is a tournament he wants to win.
It hasn't been from a lack of effort.
Furyk had a two-shot lead going into the final round in 2001 when Tiger Woods caught him and forced a playoff. Three times in six holes, Furyk stood over a 12-foot putt for the win. Each time he missed. And on the seventh playoff hole, Woods hit his approach to 2 feet for the victory.
What stung even more was three years ago. Furyk had a one-shot lead going into the final round and held off all the challengers. With a one-shot lead playing the 18th hole, he found the fairway off the tee, made one bad swing that put him in an awful spot, and made double bogey to lose by one shot to Keegan Bradley.
Furyk looks like he gets another chance this weekend.
With three birdies in a four-hole stretch, he pulled away from a tight pack and shot another 4-under 66 that gave him a four-shot lead. Just don't get the idea that this weekend is all about redemption.
"I would say that I'm disappointed I've never won here," he said. "It's one of my favorite courses we play. But to have like a chip on my shoulder? No. It's another year and opportunity, and we're only halfway. I'm going to try to do the same things this weekend and not really look at the leaderboard that much and go try to shoot under par."
It might take every bit of that considering the cast behind him.
Bubba Watson (66) and Dustin Johnson (67), whose power is suited for this monster of a course, joined Shane Lowry of Ireland (66) at 4-under 136. Henrik Stenson (69) and Graeme McDowell (71) were among those another shot behind.
"This is a tough test," Watson said. "Jim Furyk is doing unbelievable right now, so there's another golf tournament going on. It's going to be tough. This is the first time I truly have seen it this way. Out of all the years I've been here, the greens have been so soft compared to this. So this is a tough test, and it's going to be tough the next two days because it's going to get hotter."
Masters and U.S. Open champion Jordan Spieth got within two shots of the lead when he chipped in for birdie on the third hole (his 12th of the round). He followed with back-to-back bogeys to drop back about the time Furyk was starting to pull away.
The wind was swirling, and Spieth says he didn't miss a shot during a four-hole stretch when he made two bogeys. The good news? In his sixth round at Firestone, Spieth finally broke par with a 68 that left him six shots behind.
"It goes with the bigger goal of trying to give myself a chance to win this championship," Spieth said. "It wasn't going to happen shooting even."
Spieth would have to win this week to replace Rory McIlroy at No. 1 in the world.
Only 19 players from the 77-man field remained under par.
"When it's playing firm and fast, it's tough," Johnson said. "Jim shooting 8 under for two rounds, that's really impressive. Obviously, he's doing everything pretty well, which this golf course calls for. Every club in your bag you've got to hit well."
Even with 17 wins on the PGA Tour, Furyk knows disappointment as well as anyone. During his four-year victory drought he ended this year at Hilton Head, Furyk had seven runner-up finishes that included two majors.
But he recently read a story that mentioned the amount of scars that golfers suffer from losing and how much it affects them.
"Everyone's got them out here," he said. "There isn't anyone that doesn't have scars and doesn't have a memory when they step up on a tee where the last two times they hit it left in the water and then you've got to step up on the tee and rip one down the middle. So it's happened to all of us. It's how you handle those situations that end up making or breaking you and your career."