Jets WR Brandon Marshall says he's been 'underpaid the last six years'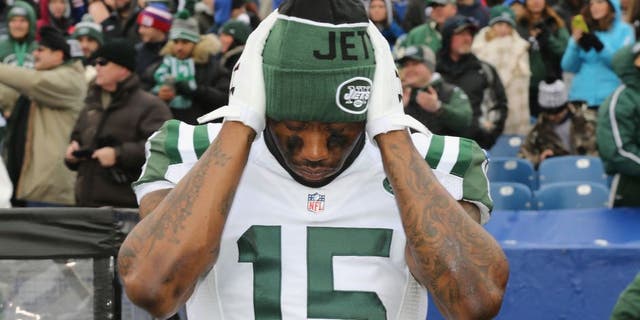 NEWYou can now listen to Fox News articles!
Brandon Marshall has been in the NFL for 11 years, and since he came into the league, he's been one of the most consistent and reliable wide receivers in the league. He's missed nine games in his career and had eight seasons of at least 1,000 yards -- at least one with four different teams, which had never been done before him.
Despite his production, Marshall is in danger of not returning to the Jets in 2017. He's 32 years old and is coming off one of his worst seasons ever, and the Jets have to trim their roster to get younger. Marshall doesn't believe his contract should be the issue, though, considering he's been "underpaid" for years.
"People need to get away from me due $7.5 million," Marshall said Wednesday on WFAN's Boomer and Carton Show. "Get away from my salary. That's underpaid. Any team should be happy to have me for $7.5 million."
Marshall isn't one of the highest-paid receivers in the league, ranking 13th in that department. His production, outside of two poor seasons in 2014 and 2016, suggests he should be paid like one of the best -- at least more than Torrey Smith, Tavon Austin and Jeremy Maclin, all of whom are paid more than he is.
He doesn't just think his $7.5 million salary is underpaid. Marshall believes he's been underpaid for more than a half-decade.
"I've probably been underpaid the last six years, if we're really about comparing production to receivers across the league and what I've been doing," Marshall said. "Now, when you only catch 50-something balls for over 700 yards and you're 30-something years old, that's when teams come to you like, 'We don't think you're good anymore.'"
Marshall, along with several other veterans such as Darrelle Revis and Nick Mangold, are in danger of not returning to the Jets in 2017. Marshall has never been to the postseason, and looking at New York's roster, it probably wouldn't happen for him next season with the Jets either.
Perhaps he'd benefit from a change of scenery, joining a team that has a good shot of making the postseason.