Jets' Todd Bowles on trading for Griffin III: 'That's not my concern'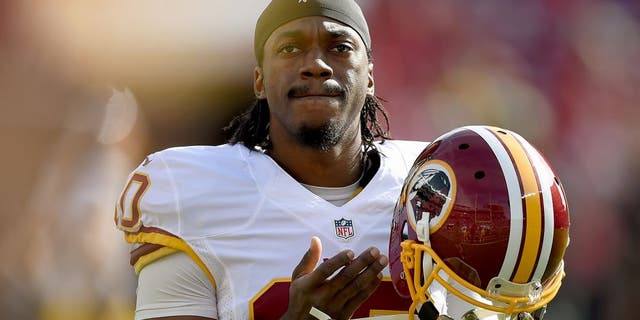 NEWYou can now listen to Fox News articles!
It appears as though the Robert Griffin III-era is coming to an end in Washington, as head coach Jay Gruden has named Kirk Cousins the starting quarterback for the 2015 season -- not just Week 1.
Reports have claimed that the Redskins' front office is at odds over what to do with Griffin, with the options being keep him, trade him, or cut him.
In order for a trade to work, Griffin would likely have to restructure his contract, as no team will be content with paying him $16 million in 2016. The quarterback-needy New York Jets seemed like one potential landing spot for Griffin, but they're not interested in Washington's quarterback -- according to Todd Bowles.
"He's in [Washington] and we have our guys right now," Bowles told reporters, via the New York Daily News. "That's not my concern."
At the right price, Griffin could be a beneficial addition to a team in need of a quarterback. His demeanor and "coachability" didn't work in Washington, but he was still a highly-touted prospect out of Baylor. That's not to say he'll be a superstar any time soon, but when he's healthy, there are worse quarterbacks out there.
For the Jets, the time isn't right -- for now. The Redskins may not be asking for much to dump Griffin, meaning he could be a good addition at the right price.
(h/t New York Daily News)