Jets spoil Hynes' debut as Devils coach, win at New Jersey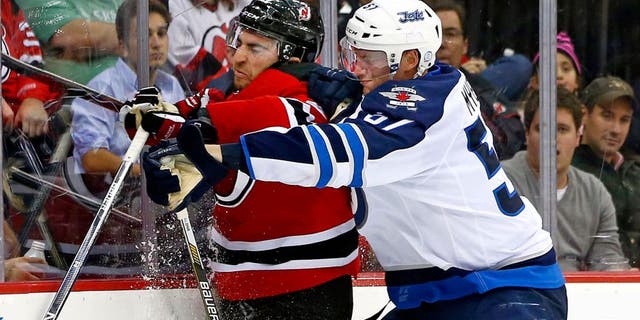 NEWARK, N.J. -- Throw out the first period against Boston and a couple of minutes against the New Jersey Devils and the Winnipeg Jets couldn't be happier with their start to the NHL season.
Andrew Ladd and Blake Wheeler each had a goal and an assist in a big second period and the Jets beat the New Jersey Devils 3-1 on Friday night to remain perfect and spoil John Hynes' NHL coaching debut.
''Obviously, getting on the road you want to put some wins together and have some fun,'' Ladd said. ''Our first game I don't think we liked our full effort. I thought we did a lot better job of bringing that tonight.''
Mark Scheifele also scored, Mathieu Perreault had two assists in the three-goal second period and Michael Hutchinson made 20 saves as the Jets' defensive play helped them win for the second time in two nights.
''We played great,'' said Hutchinson, who preserved the win with 10 third-period saves. ''We blocked a number of their really good scoring chances and our D did a great job of clearing the puck and limiting their rebounds.''
Jiri Tlusty scored for New Jersey in his debut. It was actually an own goal that Winnipeg defenseman Jacob Trouba fired into his own net trying to clear a puck in front.
''He had a blocked shot at the end that more than made up for it,'' Hutchinson said about Trouba's mistake.
Trouba knows he is going to take some grief from teammates.
''It hit Hutch's stick and I thought a D was coming back to us so I just tried to whack it,'' Trouba said. ''I don't know if it bounced or what, but right post and in. Right where I wanted to put it.''
Cory Schneider made 27 saves for New Jersey, which has missed the playoffs the past three seasons.
''All it takes is five minutes and the game gets away from you a little bit,'' Schneider said. ''We did a nice job not letting getting too far away.''
Hynes, who at 40 is the NHL's youngest coach, felt his team played well in spurt and put pressure on the Jets. There were also times he felt the Jets outworked them.
''The game was full of spurts and not enough good ones,'' he said.
Winnipeg, which beat Boston 6-2 on Thursday night, dominated after being outshot 3-0 in the opening minutes.
Scheifele, who got the Jets' first goal against the Bruins, got them started again with a shot from the left circle at 1:13. The puck seemed to fool Schneider and might have been deflected by Devils defenseman David Schlemko.
''I'm just happy they are going in,'' Scheifele said.
Less than 3 minutes later, Wheeler snapped a shot past Schneider from the dot in the same circle. The goal was waved off by one of the referees, but replay clearly showed it hitting the back of the net. Even Schneider knew it.
Tlusty cut the lead to a goal at 12:53, but Ladd beat Schneider from the right circle off a nice cross-ice pass by Perreault.
NOTES: The Devils named defenseman Andy Greene their captain Friday morning. He replaces Bryce Salvador, who retired. ... Jets goaltender Ondrej Pavelec got the night off after beating Boston. ... John Tortorella, who will coach Team USA at next year's World Cup, was at the game. ... F Kyle Palmieri made his Devils' debut, becoming the second New Jersey native to play for the team. ... Rookie Nikolaj Ehlers picked up his first NHL point with the primary assist on Scheifele's goal.