Jets sign 'Jason Pierre-Paul of TEs,' three others to future contracts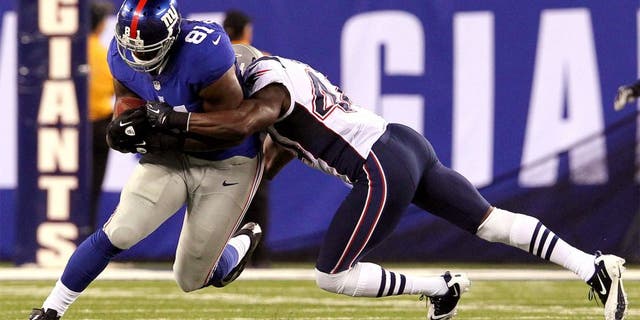 The New York Jets essentially played all season without a tight end. Jeff Cumberland led the team at that position with five catches, with tight ends contributing a total of eight receptions for 95 yards and one touchdown in 2015. The lack of production from that spot is obviously a concern, and it's something the Jets will likely address in the offseason.
In fact, they've already begun to add depth at the position. On Monday, the Jets announced they've signed tight end Adrien Robinson, offensive tackle Jesse Davis, offensive guard Craig Watts, and offensive lineman Lawrence Okoye to future contracts.
The headliner of the group is Robinson, who was once called the "Jason Pierre-Paul of tight ends" by Giants general manager Jerry Reese after the team drafted him in the fourth round in 2012.
Here's what Reese said of Robinson back in 2012:
"We really think this guy has a huge upside," Reese said. "He is a big, big man [with] long arms. He didn't catch a lot of balls for them. But he is kind of a late bloomer who has really come on. And we think this guy is kind of a JPP of tight ends. We like these kind of people."
Robinson stands at 6-foot-4, 264 pounds, but his production in the NFL has been minimal. In his career, Robinson has played just 19 games (one start), making five catches for 50 yards and one touchdown. He didn't play a single snap in 2015 after being cut by the Giants in September.