Jets rookie Devin Smith vows to be do-it-all WR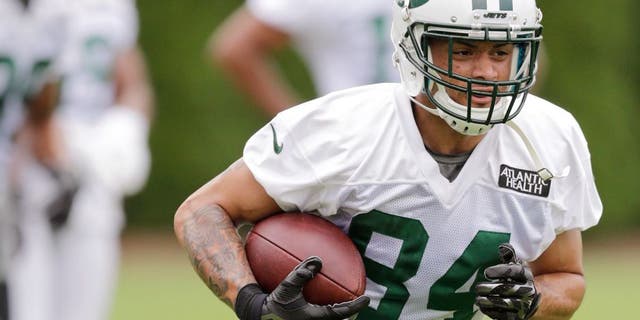 It's safe to say that wide receiver Stephen Hill didn't work out for the New York Jets. The 2012 second-round pick caught just 45 passes for the Jets and is widely considered to be a "bust."
He wore No. 84 with the Jets, but new No. 84 Devin Smith is trying to make a name for himself in New York.
"To be honest, I don't even know who he (Hill) is," Smith told Manish Mehta of the New York Daily News. "I'm not worried about none of that. I'm just going to come in here and be Devin Smith. You'll see me beat people deep. You'll see me catch short passes. I play for the Jets."
Smith was pegged as a deep threat coming out of college, but he's out to prove quite the opposite. He thrived in that role at Ohio State, yet he believes he's an all-around great wide receiver who can run every route.
"I'm an NFL receiver," Smith said. "I don't think they'll really just say, 'Oh, you're just going to run deep routes.' I'm going to do every single route in the route tree. ... The thing is, I know how to run every single route. You give me any route, I can run it to perfection."
The main reason for Smith being labeled simply as a deep-ball receiver is because that's what he did with the Buckeyes. That's how he put his name on the map heading into the NFL draft, and it earned himself a lot of money as a second-round pick.
"I was so good at going deep, that that's what they wanted me to do," Smith said. "And it worked every single time. I made plays. They want me to do that here, but I'm also an NFL receiver. So I'm just going to trust my training and do what I've done that got me to this point: running crisp plays, making plays and just be a baller. That's what I plan on doing."
Smith will need to get on the field first, as he's currently recovering from a punctured lung suffered in the beginning of training camp. Once he does return to the practice field, he'll likely need time to get in a rhythm with his quarterback -- whether it's Ryan Fitzpatrick or Geno Smith. In Smith's mind, however, he'll be a playmaker for the Jets this season and plans to prove the doubters wrong.
(h/t New York Daily News)