Jets QB Ryan Fitzpatrick doesn't 'care what other people think'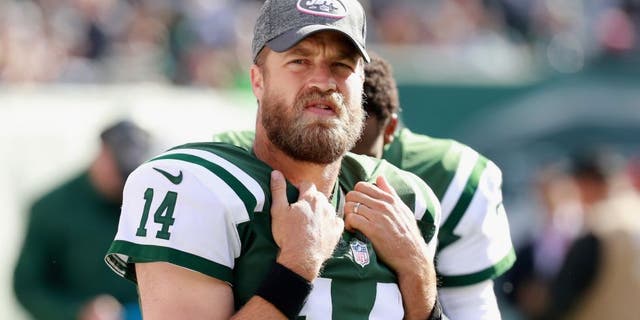 Tensions have been growing in Florham Park this season thanks to the New York Jets' struggles through seven weeks. After winning 10 games a year ago, the Jets have just two wins and five losses in 2016 and a terrible situation at quarterback.
Following Sunday's win over the Ravens -- a game in which Ryan Fitzpatrick was given back his starting job due to Geno Smith's injury -- Fitzpatrick called out Jets brass for not believing in him. He said he should start every week despite not having support from the coaches, GM or owner.
Fitzpatrick's comments caught the attention of everyone, but he's not concerned with that at all.
"I don't care," Fitzpatrick told the New York Daily News. "I don't care what is being written about me. I don't care what other people think about me. I really don't. When I'm done with football, I go home to my family. We're going to carve pumpkins tonight. I'm just going to be Dad. I'm going to be like a normal person."
Fitzpatrick admits that things may have been different seven years ago when he wasn't the wily veteran that he is today.
"Maybe seven years ago, I would care about what was said about me," he continued. "I've accomplished more than anybody ever thought I was going to."
After Fitzpatrick's comments about the Jets' higher-ups, one might think there would be some tension between the quarterback and coaches. After all, he did call them out for not thinking he could get the job done (remember, he threw six interceptions in a game).
It's been a tumultuous season thus far for the Jets, but Fitzpatrick assures everyone there is no controversy inside the team's building.
"I want it to die," Fitzpatrick said. "There's no controversy inside this building about what was said…. All I was saying was that I believe in myself. I don't think we need to hang on to that moment, (but) I know it will be hung onto forever. I just felt that it was something that I needed to say."
Fitzpatrick will get his wish (for now) as he'll be the Jets' starting quarterback going forward. It's not a decision the coaches wanted to make, but they don't have another option with Smith out and their two young quarterbacks being backups at best right now.
The rest of New York's season will be interesting to watch, but regardless of what Fitzpatrick does, he'll almost certainly be gone next year.