Jets HC Todd Bowles lauds Willie Colon, names him starter at RG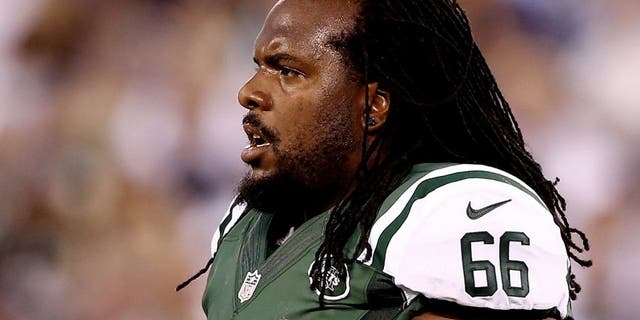 NEWYou can now listen to Fox News articles!
Veteran guard Willie Colon entered training camp without a sure-bet starting spot on the offensive line. He was in a camp competition with Brian Winters and Brent Qvale as he battled to earn the starting job for another season.
On Tuesday, Todd Bowles officially named Colon the starter, while throwing some praise the veteran's way in the process.
"He was more aggressive out of the ones that were competing for the position," Bowles said via Rich Cimini of ESPN. "He wanted it more. He came out and played like it. And he proved it. He came back to camp in shape. He played like he wanted it more. He was the hungriest. He's shown that he didn't bust as many assignments as the rest of them. He played tougher and he played more physical than the rest of them."
Colon has started all 32 games in the past two seasons, but has suffered his fair share of struggles over that time period. He dealt with penalty issues last season, something which he hopes to clean up this year.
Throughout camp and during the competition, Colon never assumed he had the job won -- and that's what drove him to win the job in the end.
"When you're in a camp battle, if you don't maximize the opportunity, the next guy will," Colon said. "I never, not one time, felt comfortable. I just didn't. Qvale had a really, really good camp, honestly. Brian was coming along. When you've got those two young dogs nipping at your heels, you've got no time to say, 'Woe is me' or worry about your injuries. ... I had to show up in a major way."
Colon did just that and earned himself a starting spot on the offensive line for another season. That's not to say he can't be unseated with poor play, but it's his job to lose for the time being.
(h/t ESPN)