Jets coach compares Tom Brady to Michael Jordan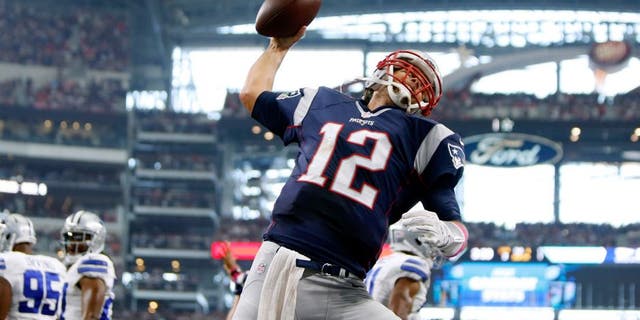 Tom Brady's game is evolving, just as Michael Jordan's did. Erich Schlegel USA TODAY Sports
Tom Brady is 38 years old, and he's showed no signs of slowing down. Whether he'll play for another 10 years like he hopes to, no one knows. But for the time being, he's doing things few others have at his age.
One who did? Michael Jordan. Arguably the greatest basketball player of all time had similar success late in his career, just as Brady is right now. Needless to say, that's not a good sign for his opponents, and one New York Jets coach understands that.
"When [Michael] Jordan was up there in age, he was still one of the best in the league," Jets linebackers coach Mike Caldwell said via Manish Mehta of the New York Daily News. "Jordan developed a post-up game. So you can always add something.
"This year, [Brady's] getting the ball out quicker. He's scrambling just enough. He's stepping up in the pocket. He's 38, but his game's evolving just like Jordan. When you can't jump and dunk anymore, you find another way. And that way is going to be just as successful if you put the time in."
In five games this season, Brady has thrown for 1,699 yards, 14 touchdowns, one interception, and has completed a career-high 70.6 percent of his passes. He's on pace to throw for 5,436 yards in 2015, which would be third-best all time.
While it's shocking to see him playing at such a high level at 38, some would take it another step further and say he's playing better than he ever has. And that's not wrong to say. He's arguably the MVP thus far and has the Patriots undefeated and looking like world-beaters.
If he does play for another 10 years, the AFC East could be in some trouble. He's already owned the division in his career, and another decade of dominance would be less than ideal for the other three teams. For Caldwell, though, saying Brady will play for another 10 years is selling him short. He took it a step further.
"Forever," Caldwell said.
MORE NEWS: Want stories delivered to you? Sign up for our NFL newsletters.