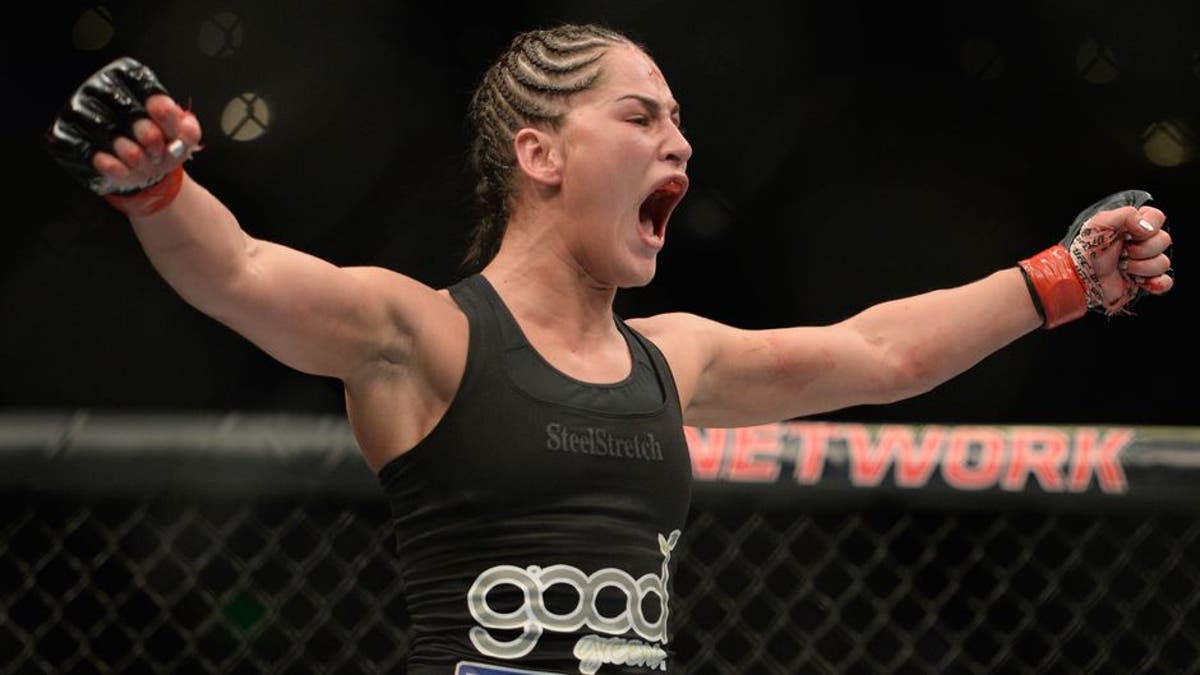 No one needs to tell Jessica Eye how important her next fight in the UFC will be for her career.
Following four consecutive losses, Eye was given one more chance to prove herself in the UFC with the final fight on her current contract as she faces promotional newcomer Aspen Ladd at "The Ultimate Fighter" finale on July 7.
All of Eye's losses have come to former champions or title contenders, but none of that matters when looking at the bottom line and that means she either gets a win before hopefully renewing her UFC contract or she exits the promotion all together.
"It is the last fight on my contract and basically a do-or-die fight for me in this way and obviously for her too, she's got to come in and beat a UFC vet on her first UFC fight," Eye told FOX Sports. "I feel like I know where she's coming from because that's exactly where I was when I came into the UFC.
"I was coming up a weight class and it seems like Aspen used to fight at flyweight. Maybe she's going to find herself in a position where she realizes that maybe flyweight is the best for her once she starts going with the 135'ers."
Following a heartbreaking split decision loss to Bethe Correia last September in her hometown of Cleveland, Eye decided to take a year off from fighting to regain her focus before fulfilling her contract with the UFC.
Obviously taking a fight in July is ahead of schedule but Eye says her coaches truly believe she's ready to re-introduce herself as a much better fighter the next time she steps into the Octagon.
"I felt like I was going to take time off and I've had a lot of extensive conversations with my coaches and my coaches are more than just my coaches at this point. They're my friends and they help me with life advice and help me through some of the decision making I need to make for myself. I feel like we took the time that we needed as necessary to make some changes," Eye explained. "Before with the Bethe [Correia] fight, I thought that was going to be my last fight [in the UFC] and they weren't going to give me any more chances to prove myself and I'm lucky enough to get another chance.
"That's my story. That's not anybody else's, I just need to capitalize on it and make a good comeback."
Jon Durr/Zuffa LLC/Zuffa LLC via Getty Images
Eye has plenty of reasons to get a win in her next fight, not the least of which is ensuring her future in the UFC, but she also knows a victory could help her breathe life into a long rumored new division in the UFC.
Before she was fighting inside the Octagon, Eye was ranked as one of the best 125-pound fighters in the world and the UFC has recently taken it under consideration to open up a women's flyweight division. The promotion had announced plans to start the flyweight division with the new season of "The Ultimate Fighter" but then admitted the release was premature.
Eye hopes to anchor that weight class assuming the UFC pulls the trigger on the division, but she won't get that opportunity without a win over Ladd in July.
"I want to fight, I want to give the UFC a reason to believe there is a flyweight division out there," Eye said. "I want to be a part of that so I have to significantly give my chance in fighting and fight the way I know I'm capable of. I don't think I've fought to my full capability and I'm still learning what I'm capable of."
Of course as much as Eye would like to keep a positive outlook on her future, especially with the possibility of competing at 125-pounds again, she also knows that she's going to face a litany of questions about coming back from four straight losses on the final fight on her UFC deal.
While that may be the focus for everyone on the outside looking in, Eye promises that the only thing that matters to her is winning the fight and getting back on track.
"At this point what else matters besides the fight itself? The media doesn't bother me. People can tell me I suck and I'm no good. I know what I am. I know I'm one of the best in the world. I wouldn't be here if I wasn't," Eye said. "Some people are going to wish they could get there and they never will.
"I guess it's hindsight now. You go back to your early amateur years, you're just fighting. You go to your early pro career, you're just fighting and no one knows you. Then you get to this national level and everybody knows you, why should I care then? I really shouldn't care because I dont know these people. I think that my skin has grown thicker and my fists are getting stronger."