Jerry Jones says Cowboys don't need to draft a QB in '16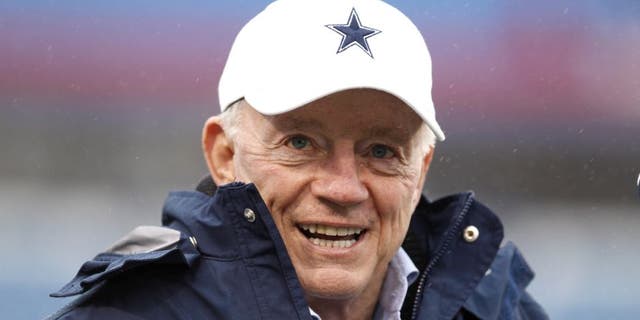 The Dallas Cowboys' postseason expectations grinded to a halt once quarterback Tony Romo was shelved with an collarbone injury last season.
While former Cowboys' great Troy Aikman has said that he believes either Johnny Manziel or Robert Griffin III will be the backup in Dallas next week, team ownership isn't viewing this offseason as having to find Romo's eventual successor.
"There are many options," Jones said, via NFL.com. "There's free agency ... We have to (draft a QB) to do what? We have to to win a Super Bowl next year? Do we have to to compete for a Super Bowl in the future? Do you have to have it in place after this draft? There's no have-to here, in my mind, because we have the luxury of having Romo here for 3, 4, 5 more years."
Jones, of course, said earlier this month that he would feel comfortable selecting a QB with the No. 4 overall pick. Now, he may have had a change of heart.
Despite those words, Jones met briefly with top Senior Bowl prospect Carson Wentz in Mobile on Wednesday.
However the Cowboys plan to find insurance for Romo will certainly be a storyline to watch over the next few months.