Jerry Jones on top of preseason evaluation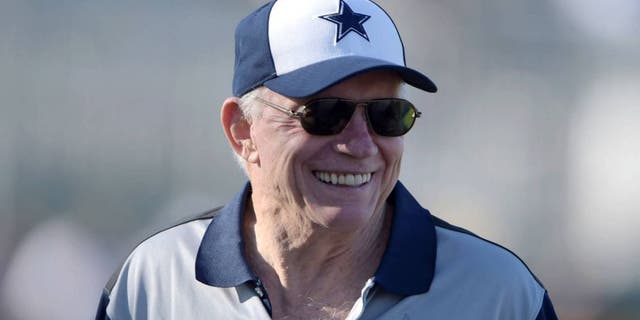 NEWYou can now listen to Fox News articles!
As an ambassador for the NFL, Cowboys owner Jerry Jones is always evaluating the significance of the preseason, especially relating to its impact on player health in the short-term and long-term.
"There's no question that we're reviewing injury and it's impact on the game, short term and long term," Jones told "Shan & RJ" on 105.3 The Fan [KRLD-FM] "So, we're reviewing every aspect of it. Well, the very nature of having a practice, the very nature of playing a preseason game creates opportunity to have what: contact. That's what the game is about and thereby you have to consider the injury ramifications of it."
When the current collective bargaining agreement was being negotiated during the 2011 lockout, Jones admitted that he had direct contact with NFL players about the impact of practices versus preseason games.
"When we did the labor deal, I got in direct dialogue, if you will, not bargaining, but just discussion with the players, not the players' reps, but the players as to whether or not or how much more exposure there is in a preseason game for a veteran player that might get six or seven plays, maybe less, or let's give him 10 or 12 plays," Jones said.
On Aug. 23, Green Bay Packers. Packers receiver Jordy Nelson tore his ACL on a routine catch against the Pittsburgh Steelers, which prompted commentators to question the necessity of exhibition games that expose key players to needless injuries.
On the other hand, Cowboys cornerback Orlando Scandrick tore his ACL and MCL during a training camp practice, yet very few commentators took the opportunity to scrutinize the relevance of training camp. However, Jones does.
"How much more exposure is there there than going out and spending two hours in a full padded practice and spending all afternoon going through a deal where you'll get five times that many reps on a basic competitive basis? Just how much more injury exposure is there? Well, then you get into the intensity. You're supposed to have a lot more intensity on a play in a ballgame than you do on a play in practice.
"So, the whole point is that there's no question we all are continually looking for ways, whether it be concussion or whether it be soft-tissue, whether it be injuries with the feet, the turf-shoe relationship as to injury. We're continuing in every way there is to evaluate all with new technology with new ways to evaluate, we're continuing to evaluate that, and are much better today than we were a few years ago."
MORE FROM FOX SPORTS SOUTHWEST:
- PHOTOS: Cowboys Cheerleaders Auditions
- Ranking NFL quarterback salaries
- Highest paid player on every NFL team
- College football's biggest video boards