Jerry Jones jokes he paid a lot 'for a backup' with Tony Romo's latest deal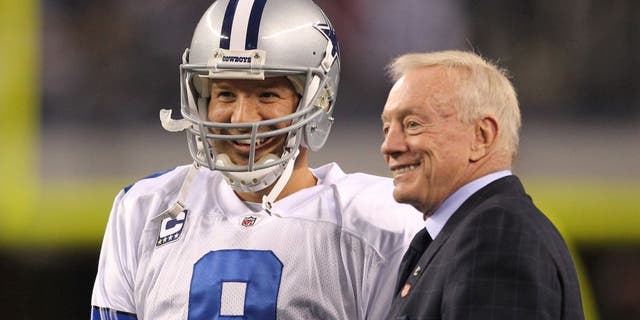 The Dak Prescott era appears to be underway after the rookie quarterback helped power the Dallas Cowboys to a thrilling 35-30 win over the Steelers on Sunday.
But the team's vote of confidence for Prescott has left Tony Romo on the bench even after he fully recovers from his back injury. Sounds like a win-win for the Cowboys, right?
Well, not if you're owner Jerry Jones, who gave Romo a six-year, $108 million extension in 2013. But at least Jones is keeping his sense of humor about the situation.
"I paid a lot of money for a backup quarterback, as you well know, and this, by the way, is going to be the record for having paid this for the backup quarterback," Jones said on 105.3 The Fan in Dallas on Tuesday, via ESPN.
But if you think you've seen the last of Romo, whose cap figure accounts for $20.835 million this season, on the field this season, Jones isn't ready to go that far.
"You don't rule that out obviously. That would be madness," Jones said. "As I said, if you ruled that out, then why would you even have a real commitment to a backup quarterback? Think about that a minute. You're going to do it, and you're going to have a team that is getting better, feeling better about itself, it's gaining really confidence in being able to handle adversity, handle it on the road, wherever. Boy, just like at any position, but more importantly to have Tony Romo able to step in at the right time when you would need him is absolutely unthinkable in a positive way."