Jerry Jones feels good about Cowboys rookie Randy Gregory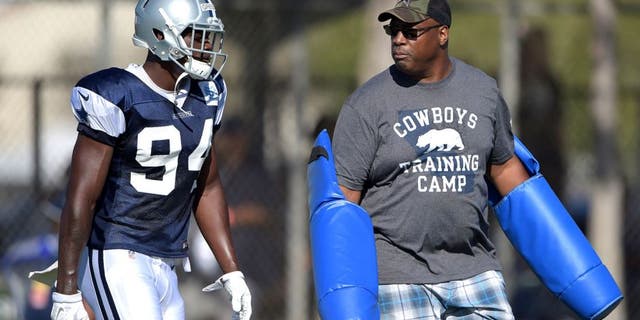 NEWYou can now listen to Fox News articles!
Jerry Jones is feeling well about the performance of second-round pick Randy Gregory. The owner joined "Shan & RJ" on Dallas-Fort Worth 105.3 The Fan [KRLD-FM] Tuesday and talked about the defensive end from Nebraska.
"I do feel good about him," said Jones. "We should feel good about him. But it's more than stats, and you know that. That's why you're asking the question. It's about his attitude."
The stats say that Gregory is tied as the league-leader in sacks with 3.0. Along with Washington's Houston Bates and Cleveland's Xavier Cooper, Gregory is one of three rookies to be tied for the top spot. However, Jones says Gregory not only works hard but smart.
"It's about how hard a worker he is," said Jones. "It's about how smart he is, because he works smart. He plays smart. He does smart things out there. He will listen to that."
Despite having first-round talent, Gregory fell into the second round at pick 60 because of a failed drug test at the NFL scouting combine February in Indianapolis. Teams had concerns about his off-field character given that he smoked marijuana while at the biggest pro timing in all of the off-season. Jones revealed that the Cowboys took him because Gregory has high intellectual prowess.
"The whole point is Gregory, you better say it right the first time because he'll remember it when you bring it back around the third, fourth, and fifth time. He's a high-intellect guy."
One story that illustrates Gregory's ability to listen is during training camp when taking instruction from Hall-of-Famer Charles Haley, who played defensive end for the Cowboys from 1992-96 and helped the club win each of its three Super Bowls during that span. Haley, like Gregory, also sported the number 94.
"I know Charles Haley huffed up and puffed up a little bit at training camp because, for whatever the reason, Gregory didn't execute a drill the way Charles, he thought, had told him," Jones recalls. "So, he talks to Gregory after the practice, and Gregory says, 'Well, you changed what you wanted me to do. I think you changed it between our reps. I did it the way you I thought you told me to do it.'
"And, of course, Charles said, 'That's not the way for a rookie to be talking with respect.' And he kind of huffed back there a little bit."
If Gregory can live up to his first-round billing while maintaining a high intellect for his off-field life, nobody at Valley Ranch will be huffing any bit.