Jerry Jones being more 'realistic' about Cowboys' Super Bowl chances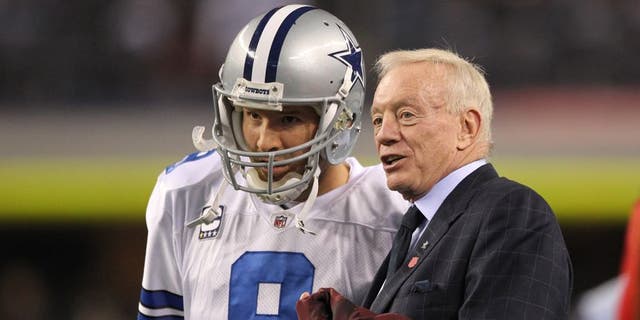 NEWYou can now listen to Fox News articles!
Along with cooler temperatures and school starting, one of the time-honored signals of the Dallas Cowboys season starting was owner Jerry Jones associating his club as a Super Bowl contender. In the past couple of years, the also president and general manager has shied away from such talk due to reality and criticism.
"I hate to use the word, but maybe it's being exceptionally realistic more," Jones said on 105.3 The Fan [KRLD-FM]. "I know that we've had some years where [Tony] Romo has really played well and we didn't get there. And last year was one of them."
Romo was an MVP candidate in 2014 when the Cowboys won the NFC East with a 12-4 record and defeated the Detroit Lions in the wildcard playoffs. Romo also led the league in passer rating, completion percentage, and yards per passing attempt. Even with running back DeMarco Murray leading the league in rushing, the Cowboys still fell short to the Green Bay Packers in the divisional round.
All of these factors helped Jones realize how arduous the task is for a team to win a Super Bowl.
"You realize how tough this is to get done, not that it's impossible to get done, but you realize the odds of saying it," Jones said.
Criticism has been another factor for Jones, who enters his 27th year of ownership, in laying off the Super Bowl talk.
The facts are that I just get tired of being criticized, and I do feel that when we start our seasons, I feel like that under these set of circumstances most of the time we've got a chance to compete," said Jones. "Now, there have been some of all the ones, as you know, I really thought that we needed to dial our expectations back."
According to Jones, estimating whether any NFL team will be a Super Bowl contender is a special talent, and if there is anybody who can exact it as a science, he would love to meet that person to have them help evaluate his team.
"I don't know anybody that's got that down. I wish I could meet them, find them, and see those persons or people that can tell you that's a Super Bowl contender and you can believe it enough to bet some money on it or not bet money and make decisions on it."
MORE FROM FOX SPORTS SOUTHWEST:
- PHOTOS: Cowboys Cheerleaders Auditions
- Ranking NFL quarterback salaries
- Highest paid player on every NFL team