Jeff Gordon talks new book, NASCAR career, and hip-hop on SiriusXM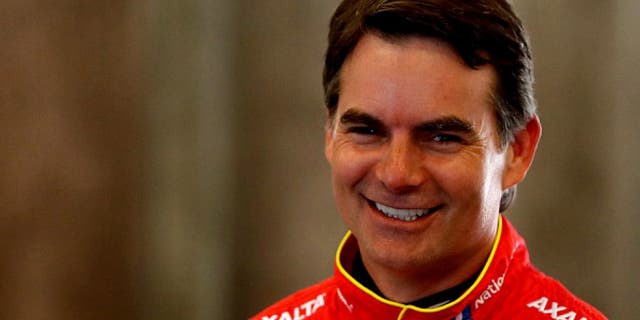 On his promotional tour for his new book "Jeff Gordon: His Dream, Drive & Destiny", Jeff Gordon sat down with SiriusXM Shade 45 host Sway Calloway for his radio show, "Sway in the Morning".
Gordon was an open book in the interview, no pun intended.
He talked about everything from his early start in auto racing, to his days of break dancing as a kid in California, and more.
When a comment was made about how open Gordon was in his book, he elaborated on its purpose to be a reflective chapter for his fans of his NASCAR career.
"This book happened because it's not just the 23-year NASCAR career, this all started when I was 5 or 6 years old," Gordon said on Shade 45. "This gets very in-depth and even my parents showed a lot of how the process started to get me into a race car. There was a lot going on with my mom and dad then, too.
"I like to be transparent and open. Knowing my career was ending in 2015, I wanted to bookend it with this, and we had the opportunity to talk about some fun and exciting moments but also some of the adversity."
The entirety of the interview hasn't been released outside of SiriusXM but will likely be posted on the Sway in the Morning YouTube channel later today or tomorrow.
During a break in the segment, Sway played hip-hop artist Nelly's 2000 song, "E.I." which features a line about Gordon.
When the song ended, Jeff rapped the part featuring his name -- "I'm flashy, double takes when you walk past me, nasty, don't be scared boo, go 'head and ask me, I drive fastly, call me Jeff Gordon in the black SS with the navigation."
And afterward, Gordon said he wasn't even aware of the song when it released, despite liking Nelly's music.
"I didn't even know about being in that song until hearing it," Gordon said. "I was living in Florida at the time and some family members in California called me and told me to listen to the song. I thought 'that is awesome, that is so badass'. After that, I went to Nelly's concert and met him and told him how amazing it was that he'd do that.'
Jeff jokingly added, "I know one thing I definitely took full advantage of it when I was in the clubs."
To hear more from Jeff, check out his appearance with NASCAR Race Hub's Danielle Trotta and Kaitlyn Vincie on their new weekly digital show, "Off Track", which premieres today, Oct. 18 at 3:30 p.m. ET on Facebook Live. To watch live, go to the NASCAR on Fox Facebook page.