Jeff Gordon rides out 'horrible' day and turns in a top-10 finish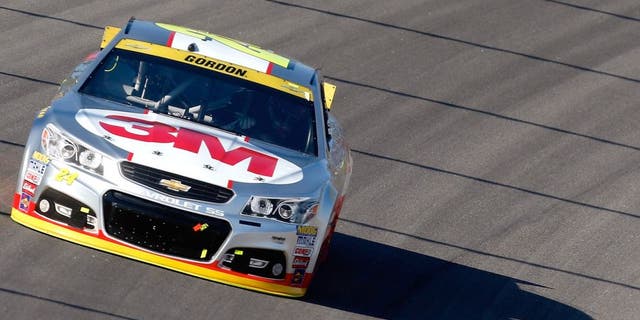 NEWYou can now listen to Fox News articles!
Jeff Gordon may have finished Sunday's Hollywood Casino 400 at Kansas Speedway in the 10th spot, but the Hendrick Motorsports driver was far from happy with his performance throughout the day.
While he was able to finish with a top 10, Gordon said there was nothing pretty about it.
"Absolutely horrible," Gordon said of his outing Sunday at Kansas. "We were absolutely as far off as you could be. I don't know. The thing qualified amazing and ever since we put it in race trim it just is not comfortable, hasn't felt good, and we've struggled with it. That was one of the hardest top 10's I've ever had to go through. I'm proud of the team. They fought hard and that's why we're where we're at. But gosh, that was ugly."
Starting from the sixth spot, Gordon struggled with the handling of the No. 24 Chevrolet from the drop of the green flag. Just 75 laps into the race, Gordon had fallen to 24th. Under the third caution of the day on Lap 109, Gordon had to pit a second time after lug nuts were left loose.
Still, the team led by crew chief Alan Gustafson refused to give in, and continued to work on the handling of the No. 24 Chevy. While Gordon said it was "decent" in the final run, he said it was never the way he had hoped.
"We just didn't have it," he said. "I don't know what I'm missing in the feel and what I've got to do to give these guys the feedback they need to adjust on it, but gosh; I had zero confidence today. It was just edgy and I just felt like I was wrecking in every corner."
With two top-10 finishes in the first two races of the Contender Round, Gordon heads to Talladega Superspeedway sixth in the Chase standings, just one point ahead of Martin Truex Jr. in eighth. Follow next Sunday's race at Talladega, the bottom four drivers in the Chase will be eliminated from title contention.
Despite the unpredictability of Talladega, Gordon indicated the team is not changing their approach and is heading to the 2.66-mile track looking for a win.
"I'm real confident in our racecars and our race team," he said. "I'm excited about our chances at actually winning there. I just don't like the chances of being in a wreck because they are usually high, but we are going to go and approach it where we are going to be aggressive and race hard. We will just see where the points end up."