Jeff Fisher and the Rams can't afford to keep Jared Goff on the bench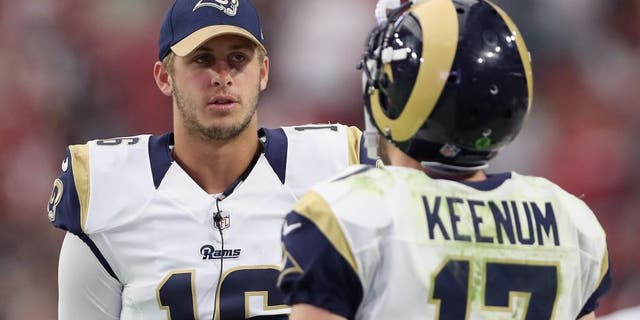 Back in April, the Los Angeles Rams traded away six draft picks to move up to No. 1 in the draft, assuring them that they'd have their pick of the litter at first overall. In doing so, the Rams landed their highest-rated player in the draft, selecting Jared Goff with the first pick.
Fast-forward six months and Goff has yet to take a single snap. He's had his hands firmly on the clipboard, donning a baseball cap on the sideline for every game but the season opener … when he was a healthy scratch. The guy preventing him from cracking the starting lineup threw four interceptions on Sunday against the New York Giants.
Case Keenum hasn't been a quality starter for the Rams this season. He's led Los Angeles to a 3-4 start, the three wins mainly thanks to the play of the defense, and has thrown seven interceptions in his last three games.
On the year, Keenum has eight touchdown passes and 10 interceptions with Sunday's debacle being the worst performance of his lackluster season. It's time for coach Jeff Fisher and the Rams to turn to Goff because time is running out on their season, and on the head coach's future -- or at least it should be.
Keenum has now thrown an interception on the Rams' final offensive play in three consecutive games. He's turned it over seven times in that span, leading the Rams to three straight losses. It's not just the turnovers that are killing Keenum and Los Angeles, either. It's the decisions he's making.
Prior to his fourth interception in the end zone with the Rams driving to tie the game, all three of Keenum's interceptions on Sunday were when targeting 5-foot-9 Tavon Austin. He threw jump-balls in Austin's direction on multiple occasions and never really gave him a chance to make the catch. Sure, his first pick was squarely on Austin, but the second and third thrown his direction were horrendous decisions by Keenum.
Here he tried to squeeze it to Austin, who was clearly covered by the linebacker.
And on this play, Keenum attempted to have Austin go up and get it in the end zone over 6-foot-2 Dominique Rodgers-Cromartie, who has five inches on him.
It's certainly possible that Goff isn't better than Keenum at this point in time, but we will never know that for sure until he's put in the game. It's become abundantly clear that Keenum isn't going to lead the Rams to more than seven wins this season, effectively putting them out of the playoff picture. So why not play Goff and see if he can be an improvement?
Well, for one, Fisher may be trying to protect Goff from being shell-shocked by repeated hits, a lack of help at wide receiver and an offensive line that can't block anyone. Keenum has also showed flashes of being decent, such as in last week's 27-for-32, 321-yard performance against the Lions. Yet the Rams still lost that game in which he played well thanks to a game-sealing interception on the final play.
For as bad as last week's pick was, Sunday's game-ender was even worse. Out of a timeout, he and Kenny Britt weren't on the same page as Keenum thought the receiver would be running a fade into the end zone. Instead, Britt ran a hitch and stopped short of the goal line. With the game on the line and a play drawn up during a timeout, that simply cannot happen. That's not to say it's all on Keenum -- Britt might be to blame -- but it was a disaster of a play.
Fisher and the Rams simply cannot afford to keep losing games with Keenum under center. There have been rumblings about Fisher possibly getting a contract extension, but after years of being the definition of mediocre, it's hard to imagine that's in the cards. If Les Snead, the front office and ownership aren't planning on extending Fisher, he needs to give Goff a shot.
There's no way he can afford to continue running Keenum out there with his job on the line -- not with the No. 1 overall pick sitting on the bench. Not with Keenum making the Giants defense -- which had forced the fewest turnovers in the league -- look like it had four All-Pros in the secondary.
Fisher has already declared he'll stick with Keenum, but that could certainly change with the bye week coming up. Goff is sure to get more looks in practice, and it wouldn't be a surprise to see him in the starting lineup two weeks from now. It would be the smart move, at least.