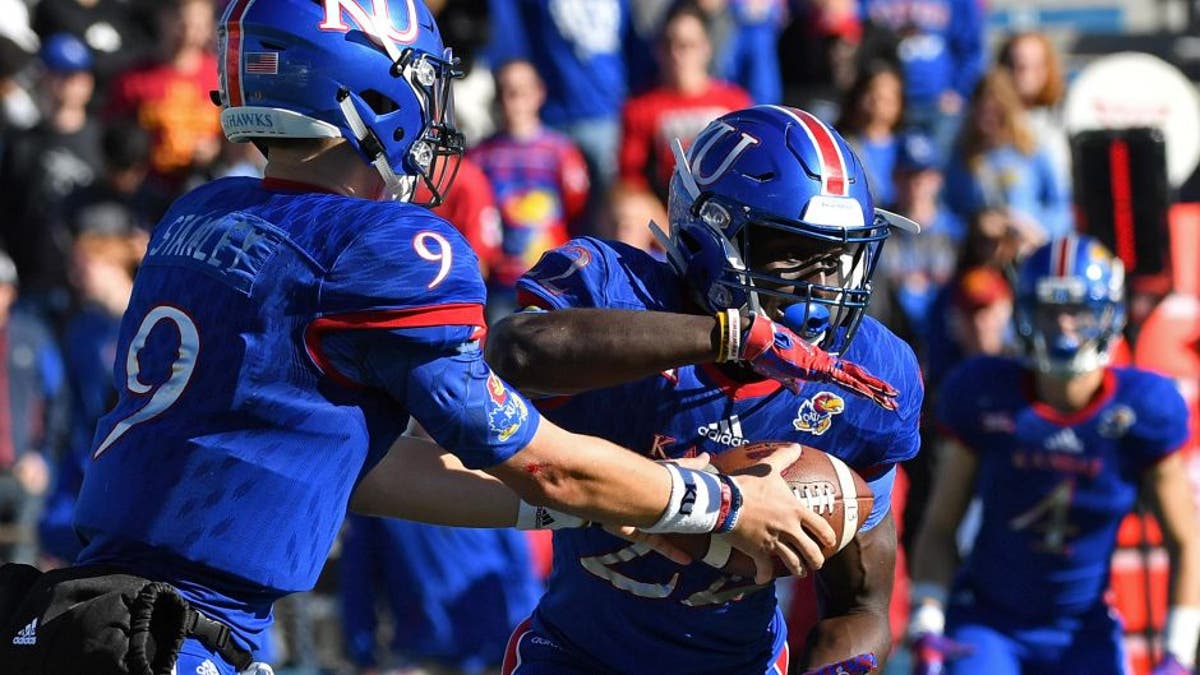 LAWRENCE, Kan. -- Kansas coach David Beaty is about as Texan as it gets, from his subtle drawl to his childhood days in Wylie, a decade spent coaching high schools and assistant stints at Rice and Texas A&M.
Yet unlike his players from the Lone Star State, Beaty insists there's nothing special about facing the Longhorns.
"When you're playing those schools that maybe they went to camp at or maybe got recruited or didn't get recruited by, there is probably some emotion. Plus the affiliation with that state," Beaty said, "but from my standpoint, it's never really been like that. I'm just a fan of football, period."
Still, Beaty does have a unique understanding of the pressure for those involved with the Longhorns -- the pressure that has pushed their own coach, Charlie Strong, firmly onto the hot seat.
Texas (5-5, 3-4 Big 12) can become bowl-eligible by beating the Jayhawks (1-9, 0-7) on Saturday, but even that might not be enough to save Strong's job. The decision is expected to be made after the season.
To his credit, Strong has remained diplomatic about his future.
"There's no excuses. The losses are mounting," he said, "and there are games that we should win, and we had our opportunities there and we didn't win them. But we still have a football team still competing and still playing hard, and that's what you like to see happen."
It has been a season of near-misses for both teams. Last week was no exception.
The Jayhawks led Iowa State deep into the third quarter before falling, 31-24. Texas spent the entire fourth quarter chasing the go-ahead touchdown in a 24-20 loss to West Virginia.
That leaves both teams even more desperate heading into Saturday. Here are some things to watch:
BOWLS MATTER: The Longhorns are accustomed to playing in big games, but even a less-heralded bowl game would be a positive step for a program that went 5-7 and missed out on the postseason last year.
"I watched a few of them. I was just really, too kind of upset to even watch a lot of them," Texas safety P.J. Locke said of the bowl season. "I just watched a few of them, maybe the national championship and maybe a few others, and that was it, though."
NARROW DEFEATS: The loss to West Virginia was hardly the only close call for the Longhorns, who lost by a touchdown to California, six points to Oklahoma and a field goal to Kansas State. If those games go the other direction, perhaps Strong's job security looks a little different.
"It's definitely frustrating," Texas wide receiver Collin Johnson said, "and at the same time it's encouraging because we know we can compete with anybody. We've just got to just pull it together. We're so close, and we've just got to keep working and building off of what we've been doing."
AILING JAYHAWKS: Beaty said linebacker Marcquis Roberts will not return this season because of a shoulder injury and defensive end Anthony Olobia is out with a season-ending Achilles injury. Both seniors would have been playing their final game at Memorial Stadium on Saturday.
AS FOR KINNER: Kansas running back Ke'aun Kinner was also hurt against Iowa State, taking a wicked shot that left him with a bruised rib. But the Jayhawks are hopeful he will be able to play.
"He looked good in practice," Beaty said, "so I feel good about him. I think he's going to be OK. We really need him to be OK. He ran really well the other night."
SENIOR DAY: Kinner should be among the seniors playing their final home game, along with safety Fish Smithson, offensive lineman D'Andre Banks and others. Many were recruited to Kansas by Charlie Weis, went through interim Clint Bowen and wrapped up their careers with their third head coach.
"The big thing for these guys, and we've been talking about it from the beginning, is the foundation that we're laying here," Beaty said, "regardless whether we were a bowl team or a team that was still doing foundational work. Understanding that each individual day was going to be basically a step in the right direction for the future of our program."