Jay Gruden encouraged by Redskins' run defense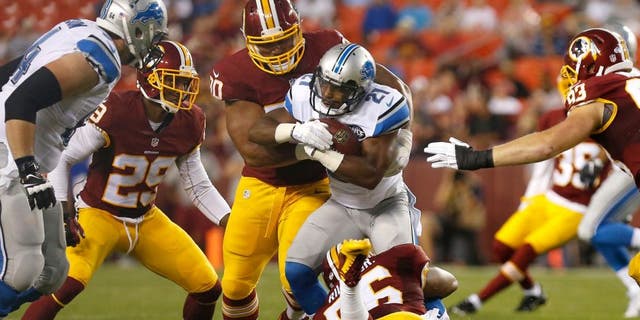 The Washington Redskins added a lot of talent to their front seven this offseason. In free agency, they signed defensive linemen Stephen Paea, Junior Galette and Terrance Knighton. When the draft rolled around, they nabbed Preston Smith in the second round, although he was viewed by many as a first round talent.
Although the pass defense has still had its share of struggles this preseason, the first team run defense has played very well. The Redskins' run defense as a whole has thrived. The second and third team units are getting it done as well.
The run defense has held Cleveland and Detroit to a combined 91 rushing yards through the first two preseason games. The first team defense has allowed just 22 of those rushing yards to both opponents combined.
Head coach Jay Gruden was asked if the improvements on run defense are due to the new personnel or the arrival of defensive coordinator Joe Barry.
"I think a little bit of both. I think our interior defensive line, we're pretty deep," Gruden said to reporters, per Mike Jones of the Washington Post. "So, we take our first unit out and the second unit is as good as our first unit too. We have a lot of depth on the defensive line and some offensive lines in preseason games don't have that same depth as we do on defense. So, I attribute that to the depth and good solid tackling."
The Redskins' first team defense will get an extended run in this week's third preseason game. The dress rehearsal for the regular season will be the best indicator about how far the Redskins' run defense has come after a busy offseason.
(h/t Washington Post)