Javier Baez, Francisco Lindor highlight Puerto Rican talent at World Series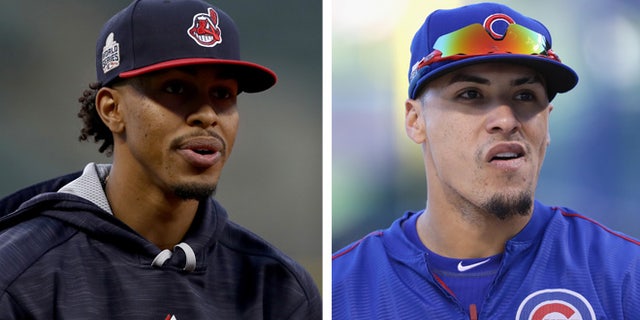 NEWYou can now listen to Fox News articles!
CLEVELAND (AP) – About four months before the 2011 draft, over a hundred scouts descended upon the baseball complex at a private academy west of Orlando. They were there to eye a couple of teenagers born in Puerto Rico who would become the draft's most coveted shortstops.
At 12 years old and with minimal knowledge of English, Javier Baez and Francisco Lindor left the island and moved to Florida. They excelled with sparkling play, Baez for Arlington Country Day School in Jacksonville and Lindor for Montverde Academy, which hosted that hyped high school game.
"That was like a mini-World Series," said Baez on Monday, reminiscing about the game his team won in their senior years. "That was a special evening. So many scouts, so much attention."
Five years later, Baez and Lindor will face each other again as rivals in the World Series, starting Tuesday.
Baez is a slick second baseman with the Chicago Cubs. Lindor is a smooth shortstop for the Cleveland Indians.
FULL COVERAGE: VENEZUELA ON BRINK OF COLLAPSE
Breakout stars of the postseason with their exceptional play and poise, Baez and Lindor also epitomize a talented crop of players from Puerto Rico.
In the 2011 draft, the Indians drafted Lindor with the eight overall pick, and the Cubs picked Baez with the next one. There's also Carlos Correa, the Houston Astros shortstop who in 2012 became the first Puerto Rican drafted first overall and who won the AL Rookie of the Year in 2015.
"We spent a ton of time with both of them," said Indians scouting director Brad Grant. "Javy was a really good player, too. We went back and forth with those two. And our scouts did a really a good job of getting to know them. In the end, what separated it for us, it was Francisco's ability to play short, which is very hard to come by. And a switch-hitter on top of it, with offensive abilities as well."
The 22-year-old Lindor marveled Monday about the similar path he shares with Baez ever since they were kids in Puerto Rico.
"We follow the same route to the majors. He left to help his family, and I did the same for mine, looking for a better future," Lindor said. "We are two shortstops from Puerto Rico, drafted eight and nine, now playing each other in the World Series, still growing. This is insane. It's a blessing. I feel so proud for Puerto Rico."
Both their families moved to the United States so they could polish their talents, enduring hardships along the way.
In Baez's case, they also wanted his sister, Noely, to get better health care for spina bifida, a disabling birth defect. Noely died at 21 years old in April of 2015. Baez was 12 when his father, Angel Luis, died after suffering a head wound in a fall in the bathroom at home.
"It's just unreal that I will be playing against him," said the 23-year-old Baez. "Our families are very close. His family spent Thanksgiving with us two years ago. And as players, it's like we're the same. We play to have fun, and do crazy things on the field."
Baez won co-MVP honors in the NL Championship Series. On Saturday night, soon after he helped the Cubs beat the Los Angeles Dodgers to advance to their first World Series since 1945, Baez was texting with Lindor.
"'Is this a dream?'" Lindor recalled texting when speaking with reporters. "I said, 'I think so.' I haven't woken up yet and I don't want to wake up. I'm living my dream, let*s keep doing the same."
Like us on Facebook
Follow us on Twitter & Instagram