Jason Pierre-Paul thanks New York hospital's burn unit with $20K check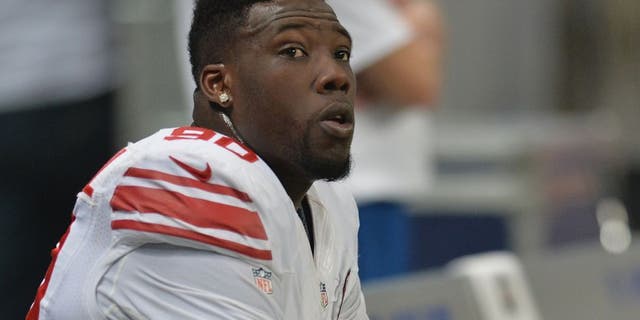 New York Giants defensive end Jason Pierre-Paul is repaying the team that helped save his career in a big way. On Wednesday, just eight months after his highly publicized fireworks accident that cost him his thumb and left his hand mangled, Pierre-Paul made a $20,000 donation to the New York Presbyterian Hospital burn unit.
Additionally, he spent the day visiting with patients at the hospital.
"As I was sitting in the hospital on July 5, there were a lot of burn [victims] in there. And I was one of them," Pierre-Paul said via NJ.com. "And just walking through the hospital, I saw a lot of burn people. People that lost hands, people that lost legs, due to fireworks incidents or whatever. And it just made me think, every time I look at my hand, it just made me think about the burn center."
Following the fireworks incident, there were questions about whether or not Pierre-Paul would ever be able to play football again. He answered those questions a few months later when he returned to the Giants, playing the final eight games of the season.
He finished the year with 26 tackles and one sack, but it was evident that he was improving as the season went on. In the final three games, he had four batted passes, 11 tackles and one sack.
It was far and away the least productive season of his career, but that was to be expected. Despite recording just one sack, Pierre-Paul proved that he is indeed capable of playing in the NFL going forward.
It's unclear if he'll be back with the Giants or attempt to start new with another team, but interest should be there for Pierre-Paul's services. He still has yet to hit the prime years of his career at the age of 27, and proved to be a disruptive force in 2014 with 77 tackles, 12.5 sacks and three forced fumbles.
At the very least, Pierre-Paul should get a short-term, "prove it" contract from a team in need of an improved pass rush.