Jason Heyward's generous gift to retiring Cubs teammate David Ross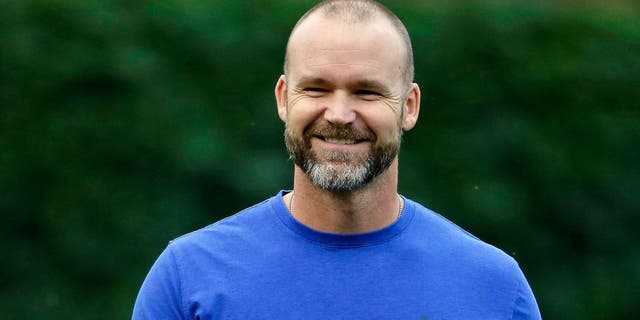 David Ross has yet to begin his farewell season, yet he has already received a generous gift from one of his Chicago Cubs teammates.
Ross revealed to MLB.com that outfielder Jason Heyward, who joined the Cubs in free agency this offseason, is paying for him to have a hotel suite for all 82 road games this season.
"That's one of the first emotional moments I had in the offseason," Ross told MLB.com on Monday. "[Heyward] texted me this nice long message about supposedly what I've done for him. That was cool to start reflecting back and people you've played with start saying nice things."
Although this will be Heyward's first year playing with Ross on the Cubs, the two played together for the Atlanta Braves from 2010 to 2012 and were locker mates when Heyward made his major-league debut in 2010.
Cubs young stars Kris Bryant and Anthony Rizzo have already begun their dedication to Ross in his final season, starting an Instagram page for the beloved veteran figure on Sunday referring to Ross as "Grandpa Rossy."

"I'm going to have kids calling me 'Grandpa' around here. I'll show 'em. I'll get them out there and race them. I'll race Rizzo and see who's faster," Ross joked.
While the Instagram page is part satirical in nature, Rizzo took a serious moment to convey his sincere feelings about Ross.