Jason Garrett keeps it coy when it comes to Cowboys' plans for Tony Romo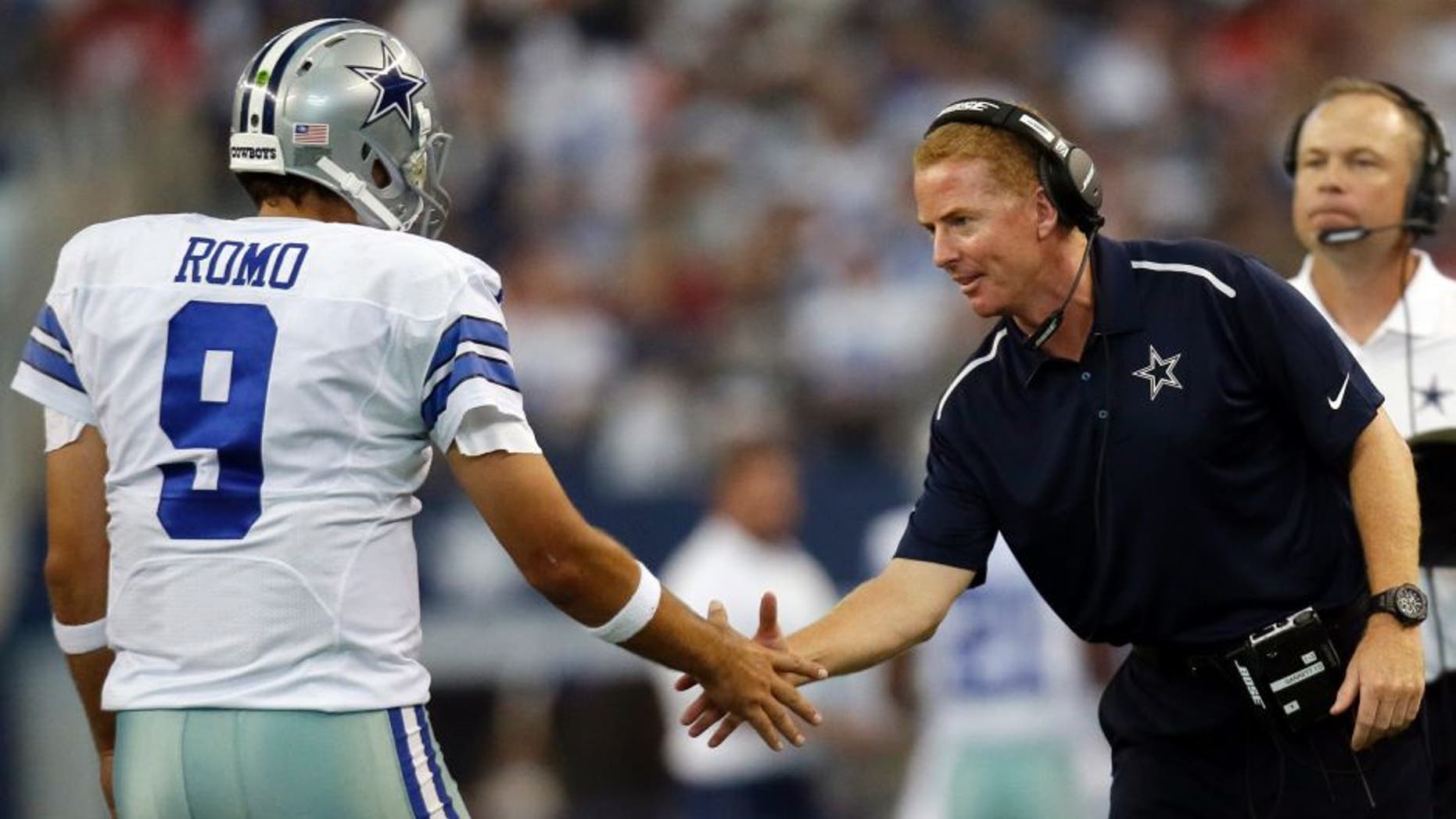 INDIANAPOLIS -- It's the $25 million question that has followed Jason Garrett virtually everywhere he's gone since the Dallas Cowboys' season ended with a divisional-round loss to the Green Bay Packers in January: What's going on with Tony Romo?
Unfortunately for Cowboys fans eager to know what's next for the franchise's longtime starting quarterback, Garrett, the team's head coach since 2011, still doesn't have the answer. And he's not exactly sure when he will.
"Tony's been a great football player for us for a number of years, and we'll take his situation as it comes," Garrett said Wednesday at the NFL Combine when asked about Romo's future with the club. "Being our starting quarterback since 2006 and what he's done for us both on and off the field, he's been outstanding. But we'll see how his situation plays out over the next few weeks."
From 2006-14, Romo started 123 games for Dallas and led the team to a 75-48 record and four playoff appearances under center. However, Romo, who turns 37 in April, has been limited to five games over the past two seasons due to injury.
In 2016, the Cowboys seemingly found their heir apparent in rookie Dak Prescott, who led the team to a 13-3 regular season record and remained the team's starter after Romo's return from a preseason back injury. And considering Romo's price tag -- he'll make $14 million and represent a $25 million cap hit in 2017 -- and his desire to play, many expect Romo to be traded or released.
If Dallas intends to do either, it would behoove it to make that move sooner than later, rather than have the uncertainty over Romo's future impact their draft plans or hinder any other potential offseason moves. But Garrett insisted that he's not aware of a decision on the horizon.
"It's hard to know that," Garrett said when asked if there would be a resolution to the Romo situation before free agency begins next week. "He'll have some conversations with Jerry Jones and they'll work through what that specific situation is. In regards to what we think is best for the Dallas Cowboys and what's best for Tony Romo, there's a lot of different factors involved."
Of course, no one expects Garrett to be completely forthright with regard to his team's plan for Romo -- at least not in front of a throng of TV cameras and tape recorders. That's not the nature of the business, after all. But if you read between the lines, Garrett sounds increasingly like a guy who expects Romo to be wearing a different jersey next season.
"I don't want to comment too much on that," Garrett said when asked how his relationship with Romo has has changed in recent months. "I haven't spoken to Tony very much this offseason, but I think that has a lot to do with coaching the Pro Bowl and a lot of different things we're doing as a coaching staff. He's got a new little baby on the way, so he's busy with that, but I know he's continuing to get his rehab done so he can be as healthy as possible going forward.
"But I have an immense amount of respect for Tony Romo," Garrett continued. "I'm so fortunate to be around him, to be able to coach him, to develop the relationship that we've had over the last 10 years. I hold him in the highest regard."
At one point, Garrett acknowledged that "there's no reason to think (Romo) can't play at a high level again," but he also said his last conversation with Romo came shortly after the end of the season, in what he described as a typical exit interview.
"We kind of talked through the year a little bit and obviously it was a challenging year for him, to get hurt and not be a part of the team this year as the starting quarterback, for a guy who's as competitive, as accomplished as he has been," Garrett said. "It wasn't easy. But he handled the situation really well, put the team first."
Now the question is whether Dallas should do the same by moving on -- and if they do, whether management should reward Romo by sending him to a destination where he'll have a good chance to be successful.
"That expression, 'What's best for the Dallas Cowboys,' is the guidepost for every decision we make," Garrett said. "(With) personnel decisions, scheme decisions, we always want to do what's best for the team.
"In regards to his situation -- and Tony Romo has been a heck of a football player for a long time -- having a guy like that on your football team as one of your three quarterbacks, he can help you because he can play and he's the right kind of guy," Garrett continued. "Having said that, there's a lot of different factors that go into his decision, just like it would with any of the other free agent-type players that we have on the team. … But we always will put the team first and then work from there."
Regardless of how it plays out in the coming days, however, Garrett said he expects Romo to take the decision in stride.
"Tony is really a great person and he's been a great football player for a long time," Garrett said. "And he's going to handle the situation, whatever it is, the right way."
You can follow Sam Gardner on Twitter or email him at samgardnerfox@gmail.com.