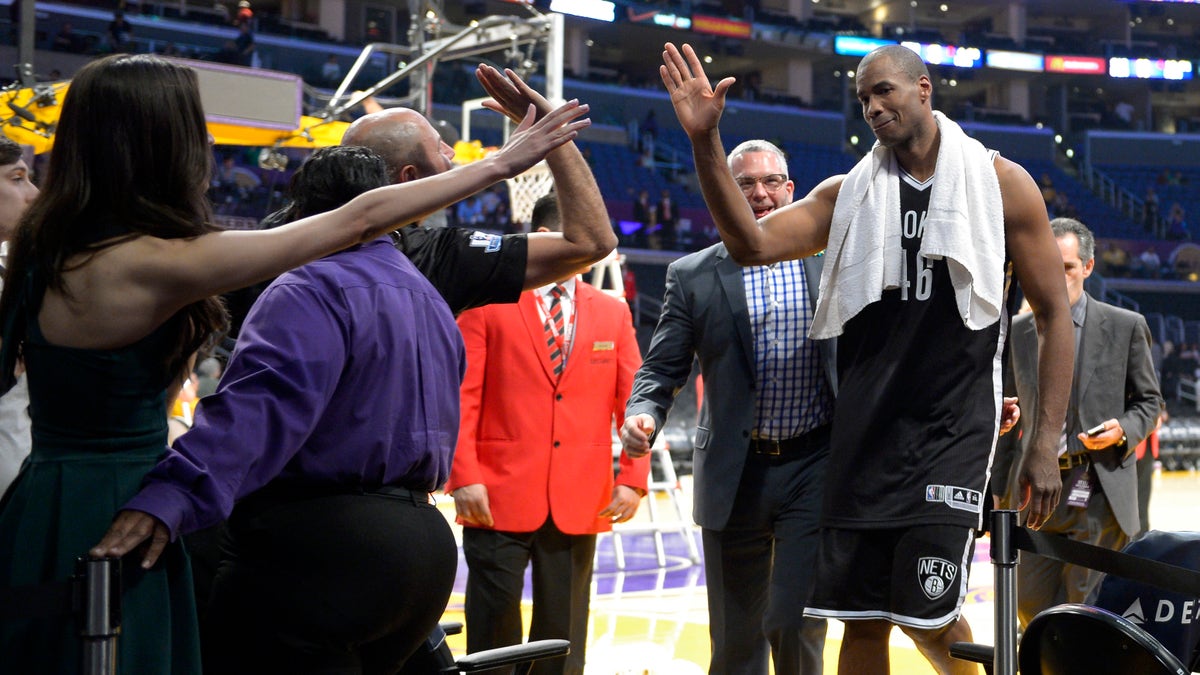 DENVER – Jason Collins played the final eight minutes of a blowout win. Rarely has he been prouder of a performance.
"I got them a bucket," the Brooklyn Nets' center said with a chuckle. "And of course, I had what, like three, four, five fouls. So, I did my usual fouls and I got them a bucket. And a free throw."
After his eight-minute cameo in Brooklyn's 112-89 win over the Denver Nuggets on Thursday night, the first openly gay athlete in America's four major sports met with the parents of slain Wyoming college student Matthew Shepard.
Shepard was tortured and murdered in 1998 because he was gay. Collins wears his No. 98 jersey in Shepard's honor.
Collins, who signed a 10-day contract with the Nets on Sunday, said the chance to meet Dennis and Judy Shepard was "one of those cool treats in life."
He gave them a signed black and white jersey -- although not a game-worn one.
"I did not want to give them a sweaty jersey, so this is a backup," he said with a laugh before going off to meet with Judy and Dennis Shepard, who drove up from Casper, for 10 minutes in a meeting room down the hall.
Laughter could be heard throughout the meeting.
"It was great. It was all great. He's very kind, smart, humble. It was delightful. We were happy to finally have the opportunity to meet," Judy Shepard said.
She said getting his jersey was "cool. It was very sweet, very genuine and very thoughtful."
Her husband said he hopes the day quickly comes where someone's sexuality is a non-issue.
"There should be no publicity over this. It should be just an ordinary every day thing, like the military now," he said. "That's what we're hoping for, soon. Thank you very much."
"His career is the most important thing," Judy Shepard added as they walked away. "That's it."
Collins said Shepard's death had a deep effect on him.
"I was in college at the time and when he was killed and of course it's a tragedy what happened and I just hope that it inspires others to move forward and again I'm looking forward to meeting his parents," Collins said about 90 minutes before tipoff. "I had the honor and pleasure of speaking with his mom last spring and she was a cool lady, a cool woman, and so I'm looking forward to meeting with both of them face to face,"
Collins wore No. 98 with both the Boston Celtics and the Washington Wizards even before coming out last spring. The jersey has been a big seller on NBAStore.com, something Collins said honored Shepard and the Trevor Project, which was established in 1998 and aims to prevent suicide among LGBT youth.
The jersey wasn't ready for his first game with the Nets -- he wore a spare with his name hastily added for the contest against the Lakers on Sunday -- but he wore No. 98 against the Blazers on Wednesday night and against the Nuggets on Thursday night.
Collins said slipping on that jersey with the significance no longer a closely held secret meant a lot to him.
"Obviously, it started off my friends and family knew why I chose that number and it's just cool to see that so many people support it as evidenced by so many people buying the jersey," he said.
Collins was a free agent when he announced at the end of last season that he is gay and the 35-year-old center remained unsigned until the Nets needed another big man.
He said he's been given no indication from the team whether he'll get another 10-day deal, but wants to stay with the Nets the rest of the season: "Oh yeah, definitely. This is a great group of guys."
Collins played 10 scoreless minutes in a win over the Lakers, then quietly played seven minutes after Nets coach Jason Kidd pulled his starters in the fourth quarter of a 44-point blowout loss at Portland on Wednesday night.
Collins bristled when a reporter asked him before Thursday night's game if he could prove himself with such little court time over a 10-day deal.
"I don't think as a 12-year vet, going on my 13th year now, that I have much more to prove as far as I know I can help the team win," Collins said.