Jared Goff threw passes to Dodgers CF Joc Pederson at Rams practice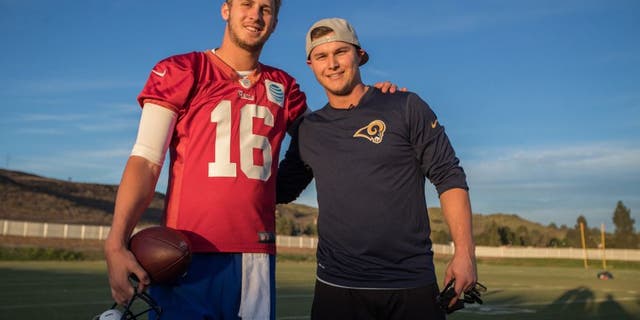 In the week leading up to what will be his first NFL start, Rams rookie Jared Goff threw passes Tuesday to a pair of Los Angeles Dodgers players who attended the team's practice.
Take a look at 24-year-old center fielder Joc Pederson (black clothing, backwards hat) along with Dodgers second baseman Micah Johnson in action:
Pederson also got the opportunity to check his hand-eye coordination on the JUGS machine:
Pederson had previously made a pitch to the Rams for a Tim Tebow-like tryout. Apparently it worked.
Goff, the 2016 No. 1 overall draft pick after the Rams traded a haul of picks to the Tennessee Titans to move up, has previously taken reps with the first-team offense, but this was technically his first practice as the team's starter after head coach Jeff Fisher announced he would have that role Sunday against the Miami Dolphins.
The Dodgers weren't the only famous persons at Rams practice on Tuesday.
A female pop star also made an appearance.
Take a guess.
The Rams offensive line had better step up against Miami's front seven Sunday or the Dolphins are going to hit him (baby) several times.