Jan Blachowicz on getting better with every day, ahead of UFC 191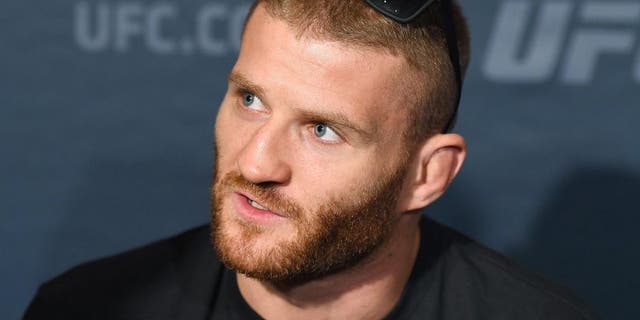 LAS VEGAS --- Jan Blachowicz hasn't suffered many losses in his MMA career, but their rarity may intensify their sting when they do happen. In april, the Polish fighter lost a decision to Jimi Manuwa.
Prior to that, he hadn't lost since 2011, to Rameau Thierry Sokoudjou. Blachowicz didn't like reliving the feeling, and didn't waste much time before getting back on his grind.
"I took two weeks off and then got back into the gym to train because my last fight didn't go too well (laughs)," he told us Thursday afternoon.
The feeling of losing a fist fight to another person, fair and square, is uniquely disappointing. Blachowicz made sure to turn that disappointment productively as he prepared for his come back this Saturday at UFC 191, against Corey Anderson.
"It is hard, but I try not to think about it too much during training.," he said.
"You just think about the mistakes you made during a fight, and work on fixing those. If you do that, you can get better. Before the loss to Manuwa, my previous loss, a long time ago, I did the same thing, worked on the mistakes I made, and I got so much better as a result."
According to the light heavyweight, that strategy has paid sizeable dividends. Even though he last fought just a few months ago, Blachowicz believes that he's already improved a great deal.
"I've definitely gotten a lot better since April. I'm mentally better, physically better," he insisted.
"I just made a lot of small but very important adjustments. I think the biggest improvement is that I train a lot smarter, now."
So, the 32 year-old is confident. In fact, he doesn't see an area of the fight where his opponent Anderson is better than him.
"I believe I'm better than him, everywhere. But, I guess we'll see on Saturday," he said humbly, before spreading a wide smile of assurance.