Jamie McMurray reveals secret to keeping cool over his in-car radio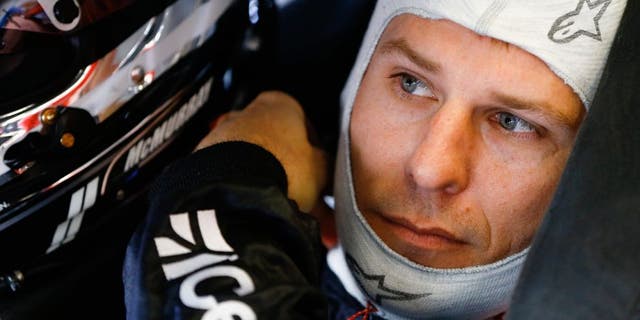 In the ultra-competitive world of professional stock-car racing, NASCAR drivers are understandably prone to use their in-car radio to spout off to their crew chief or spotter when things aren't going well on the track.
Occasionally, expressions of frustration turn into full-fledged tirades peppered with salty adjectives when circumstances take a particularly frustrating turn.
Although no driver is immune from the momentary meltdown or occasional harsh critique of his team or a competitor, 2010 Brickyard 400 winner Jamie McMurray is one who makes a conscious effort not to engage in the kind of fiery banter he might later regret.
So is the Chip Ganassi Racing with Felix Sabates driver really NASCAR's version of "Mr. Cool" or has he merely mastered the art of keeping his mouth shut when he wants to say something that could be counterproductive to his racing efforts?
"I think I do a better job of hiding it than everybody else," McMurray said on Friday at Indianapolis Motor Speedway, site of Sunday's Brickyard 400. "I also don't key the radio when I'm mad or when I have something to say. I don't know why people key the radio to announce to the world what they are feeling.
"That takes thought to actually key the radio and say everything. I have moments just like everybody else. I just don't let everyone see it."
Is there some sort of internal mechanism or secret that enables McMurray to keep his emotions in check when many of his fellow drivers regularly fill up their in-car radios with the kind of language that would virtually make a hardened criminal cringe?
"I have two kids who love watching NASCAR," said McMurray, who is a father to four-and-a-half-year-old son Carter, along with two-and-a-half-year-old daughter Hazel. "I don't want them to hear that.
"I've never been the guy to key the radio and say that, but after having kids you are ... not going to put that out there -- not only if there are kids and people scanning (drivers' radios), but also for McDonald's, for Cessna, for all of our partners. There are a lot of people in the (track) suites that are listening, and I just don't think that is appropriate."
McMurray, a seven-time Sprint Cup Series race winner who is one of NASCAR's most soft-spoken drivers outside the car, tries hard to maintain his usual easy-going temperament in the heat of battle -- even though he admittedly has times when he just can't bite his tongue any longer.
"I think some people get off on keying the radio and making an ass of themselves," he said. "I just don't. I just say it to myself and have my own moment inside the car.
"Every once in a while I lose it and I key the radio, whether I'm yelling at the spotter or yelling at something that is going, or I'm mad at someone I want them to go talk to. But most of the time, I just don't. I just keep it to myself and I move on."