Jamie McMurray hits a hole in the No. 1 at Dover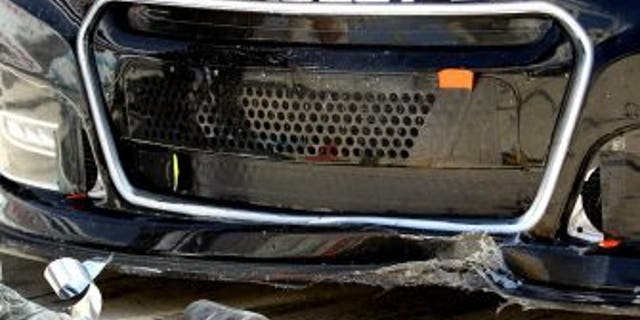 Well, as probably most of you heard us say all last week, "It's over in Dover." Now by that we are naturally talking about our last NASCAR on FOX broadcast for the 2014 season being at Dover. We leave it up to others to finish out the year and then next year there's realignment as NBC comes back to NASCAR and FOX picks up some more races. So in 2015 we'll be back to how it all started in 2001 with FOX and NBC covering the sport.
Now while our FOX portion of the season has come to a screeching halt, the NASCAR Sprint Cup Series is roaring ahead hitting on all cylinders. We are at the halfway point of the regular season. There are so many storylines yet to play out before we get to Richmond in September for the last race before the start of the 2014 NASCAR Sprint Cup Chase.
I just think all is right in NASCAR's world as it's back spinning on its axis. I get so tickled thinking about three short weeks ago the talk in the sport was "what's wrong with the No. 48?" Jimmie Johnson had yet to win, plus he had a less-than-stellar performance in the Sprint All-Star Race when he finished sixth and really was never a factor.
Then lo' and behold, crew chief Chad Knaus goes to his teammate, crew chief Kenny Francis on the No. 5 car, and asks for help. I think that Beatles song "A Little Help From My Friends" sure fits the bill here. The sleeping giant known as the No. 48 team suddenly and dramatically came to life. They dominate and win the Coca-Cola 600 at Charlotte. They back that up Sunday by dominating and winning at Dover. So in three short weeks we've gone from "what's wrong with the No. 48?" to "the No. 48 wins too much" -- so that's why I think we are back to everything being fine in the sport.
When you stop and look at the Dover weekend, there were a lot of things expected and some things none of us expected. We expected to break the track record and we did by a considerable margin, I might add. We expected to see a Penske car on the front row because it always seems they are right there, and we got it with Brad Keselowski winning yet another pole.
These race cars are simply bad fast. I keep reminding you these are the fastest race cars in the history of our sport. It takes great drivers to drive fast race cars, and we are absolutely loaded with great drivers. I've been in this sport for many a moon. I've seen the great ones all along the way, I raced a lot of them along the way and I truly believe we are seeing the cream of the crop right now. The drivers love these cars. They feel comfortable and safe in them. The drivers are having fun. That makes for some awesome racing and we fans are the real winners in all that. I sure hope you stop and appreciate what you are seeing these days in our sport. Quite a number of these drivers will one day be in the NASCAR Hall of Fame for what they are doing on the track right now.
I was really curious to see if Kyle Busch could have pulled off the trifecta at Dover. He had won the Camping World Truck Series race and the Nationwide Series race there leading into Sunday. He definitely had the car capable of making the sweep; however, he was just in the wrong place at the wrong time.
I think during all that adversity Sunday you got a clear snapshot of the maturity of Kyle Busch. Did he blow hot like normal? Sure he did. Kyle lost his cool over what happened, and I don't blame him. You show me any professional athlete who isn't upset when they lose and I'll show you a professional athlete who won't be in the sport very long.
Two things happened after that which proved to me once again that Kyle has matured. Kyle went after Clint Bowyer over what happened that erased Kyle's chances for winning on Sunday. However, when his team radioed him to stop and not do it, Kyle listened and came to the pits.
Then the second very smart thing I think Kyle did was go straight to his motorcoach. Here's a young man who has taken his licks and been brutalized for the things he says in the heat of battle. He didn't take the bait this time. He went to his motorcoach without speaking to the media. Now I know that upset the media folks, but so what? I promise you, because I've stuck my foot in my mouth many times when angry at the racetrack: Kyle did the smart thing and just didn't say a word. Nothing positive would have come from Kyle stopping to vent to the media.
Definitely one of the biggest unexpected things to happen Sunday was the track coming up during the race. Jamie McMurray hit it between turns 1 and 2 and then we had a pothole at Dover. That's just something you never really expect to see happen at a racetrack.
The other thing that was unexpected came during my "Shoot the Breeze" segment in the pre-race show with Jimmie Johnson. Jimmie allowed he had hernia surgery back in the offseason. I kidded him about the fact it was due to carrying all six of his championship trophies around. I just assumed everyone knew about it because it happened something like six months ago, but I came to realize it caught a lot of people unaware.
I think the Sunday crowd being down has to also be put in the unexpected column. Those folks at Dover put their heart and soul into putting on a good show for everyone. They create a fun atmosphere and the drivers gave everyone a great race. I really thought the place would be full so when it wasn't, I have to say that was unexpected.
Something else happened you don't see every day on the circuit and that was a spotter taking credit for a wreck. When Clint came up into Kyle, it was as if Kyle wasn't even there. When we listened back to the radio transmissions from the No. 15 team, there was the spotter saying it was his entire fault. He said he had told Clint he was clear to move up, but obviously he wasn'€™t. I'm sure that didn't help calm Kyle down one bit but it sure was unexpected to hear a spotter step up like that.
One thing I now definitely expect is to see that No. 48 car to continue to win. Anyone for one second who didn't think the No. 48 was going to win races or be a factor in the 2014 NASCAR Sprint Cup Chase simply hasn't been in our sport very long. I honestly would not be the least bit surprised to see Jimmie win three in a row this weekend at Pocono.
Now that doesn't mean everyone else is racing for second place on Sunday. Pocono is a great track for Jeff Gordon, Tony Stewart, Greg Biffle, Kasey Kahne and some others. So no one in the NASCAR garage is simply rolling over because the No. 48 has all of a sudden come to life and won two races in a row.
When I first came into the sport in 1972 there was a saying, "To be the King, you had to beat the King," and naturally that meant Richard Petty. So that was my goal. I wanted to be at the top of the heap and, with a lot of help from others, I was blessed to be at the top three different times in our sport.
Today the saying should be, "To be The Man, you need to beat The Man," because hands-down "The Man" is Jimmie Johnson. As I mentioned a minute ago, I expect to see him win again this year. Actually, I wouldn't be surprised to see Jimmie end up winning more races than he did last year.
As we learned Sunday, the team has rolled out some new cars for Jimmie. He likes them and is performing in them. I think these might be the first cars coming online that the team has built to take advantage of the new rules package for 2014. We've talked about this before but remember that Jimmie and Matt Kenseth were locked in a tight, tight battle in 2013 right down to the wire for the championship. I think that's why both teams have had a slow start to 2014. They had so much time and energy invested in winning the 2013 championship that preparation for the 2014 season suffered. So now Jimmie is back to winning, and put this in the expected column: I think we'll see Matt Kenseth begin to win his fair share of races in these next 13 weeks.
So yes, it is over in Dover but that's only for our NASCAR on FOX coverage for 2014. For the sport as a whole, there are even greater days ahead this season. It will keep rolling on with a full head of steam. Like I mentioned last week, keep your eye on the Chase storyline. We've had 10 winners already in only 13 races. There are 13 to go and only a total of 16 spots in the Chase. We might very well see where "win and you are in" isn't really the case. It might have to be altered to "win and be in the top 16 in points" because there is nothing to make me believe we aren't going to have more first-time 2014 winners.
So starting this weekend, I am back to being a fan watching the Pocono race from my couch. I love that track. I won there four times conquering the Tricky Triangle. Here's my advice when you try and figure out your favorite driver's chances on Sunday. Just wait and see how your guy or gal does after qualifying on Friday. The last six June races were won by top-five starters and, taking it a step further, it's been the same in 13 of the last 18 races. Also, eight of the last 17 races were won from the front row, including last June from the pole. But don't forget, this is the first time that knockout qualifying will be held at Pocono, so that should definitely stir things up, too.