James Neal's OT goal puts Predators past Ducks to open West final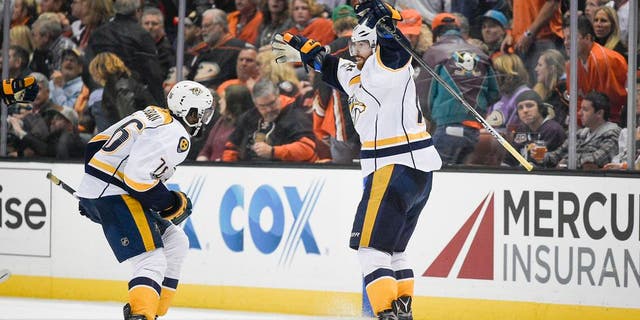 ANAHEIM, Calif. -- James Neal scored 9:24 into overtime, and the Nashville Predators kicked off their first appearance in the Western Conference finals with a 3-2 victory over the Anaheim Ducks on Friday night.
Pekka Rinne made 27 saves for the Predators, who continued their dominant surge through these Stanley Cup playoffs with a strong start and a gritty overtime effort after Hampus Lindholm's first playoff goal in two years tied it for the Ducks.
Filip Forsberg and Austin Watson scored in regulation for Nashville, which improved to 9-2 in the postseason.
Jakob Silfverberg scored on the Ducks' first shot, and John Gibson stopped 43 shots. Just two days after finishing off Edmonton in the second round, Anaheim struggled to keep up at times with the more-rested Predators.
Game 2 is Sunday night.
Neal put a long shot past a sprawled Gibson after a prolonged threat by the Predators that left Anaheim's defense in disarray. The goal was the veteran forward's third in four games.
Although this conference final matches two Sun Belt clubs 2,000 miles apart, they have a feisty history. Anaheim and Nashville are meeting in the postseason for the third time, including the past two seasons.
Nashville twice won Game 1 and went on to claim the previous two series with major help from Rinne, who usually has been at his inimitable best when facing the Ducks' scorers. Rinne picked up right where he left off last season when Nashville eliminated Anaheim from the first round in seven games, but Gibson responded with a second straight superb playoff performance.
The Ducks were back on the Honda Center ice two days after their Game 7 victory over Edmonton to reach the conference finals for the second time in three years. Anaheim had little time to recover from that grueling second-round series, and it showed in an occasionally slow-footed performance.
The Predators made sure they were well-rested for their conference finals debut after 18 NHL seasons. Nashville had the past four days off after eliminating the Blues to cap its 8-2 surge through the first two rounds.
The Ducks got just one shot on goal in the first 13 minutes of Game 1, but Silfverberg put it into Rinne's far top corner for his eighth goal in 12 games this spring, matching his goal total in 48 games over his previous six trips to the postseason.
Nashville dominated the weary Ducks, and Forsberg forced a turnover on a forecheck before tipping Matt Irwin's shot through Gibson for his fourth goal.
Watson then put the Predators ahead early in the second period with his first playoff goal, banking his shot in off Anaheim defenseman Sami Vatanen.
Rinne was in top form, but the Ducks' dominance in the faceoff circle paid off in the third period when Nate Thompson drew the puck back to Lindholm for a long shot past traffic. Lindholm scored his first playoff goal in 25 games since Game 1 of the 2015 Western Conference finals against Chicago.
After the Ducks took consecutive delay-of-game penalties moments later for putting the puck in the stands, Gibson and his shot-blockers were outstanding while Anaheim survived 1:28 with a 5-on-3 disadvantage.
NOTES: Anaheim remained without two key injured veterans. D Kevin Bieksa missed his seventh straight game, while F Patrick Eaves missed his fifth straight game with a leg injury. Bieksa is close to returning to health, while general manager Bob Murray said he is hopeful Eaves could play again in the postseason. … Watson became the 15th player to score a goal for Nashville in just 11 playoff games. … A 6 p.m. local start time combined with Southern California's legendarily bad Friday traffic to leave thousands of empty seats in Honda Center at the opening faceoff. The sellout crowd filled in throughout the night. … The Ducks went scoreless on four power plays. They're 0 for 21 with the man advantage since late in Game 2 against Edmonton on April 28.
Charles LeClaire-USA TODAY Sport | Charles LeClaire