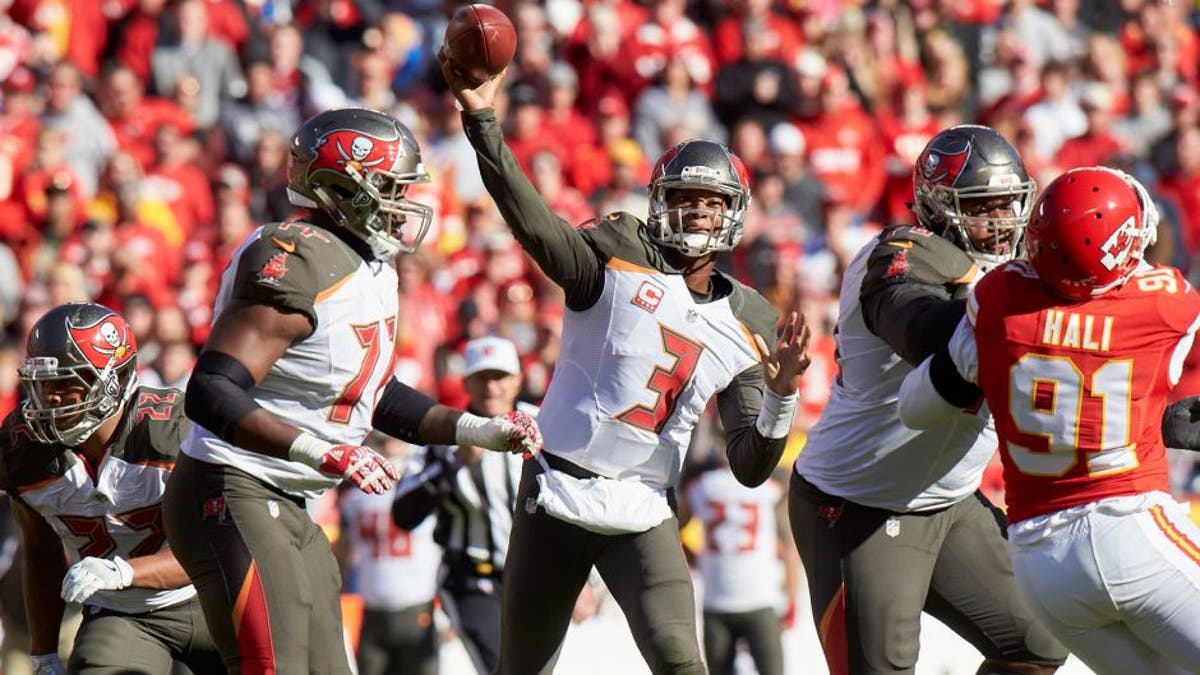 KANSAS CITY, Mo. (AP) -- Jameis Winston sliced up a Kansas City defense missing top cornerback Marcus Peters, and the Tampa Bay Buccaneers held on for a 19-17 victory Sunday that snapped the Chiefs' five-game winning streak.
Winston threw for 331 yards to help set up four field goals by Roberto Aguayo, and hit tight end Robert Cross for a touchdown with just over 6 minutes left to give the Buccaneers (5-5) a cushion.
The Chiefs (7-3) marched swiftly downfield, and Alex Smith hit Albert Wilson with a short touchdown pass with just over 2 minutes left. But their defense couldn't stop Mike Evans on third-and-3 just moments later, and the big wide receiver's sixth reception gave the Buccaneers a first down.
It was the Buccaneers' fifth straight win over Kansas City dating to 1993, and it snapped a home winning streak for the Chiefs that dated to a loss to Chicago on Oct. 11, 2015.
The Chiefs, who had won 17 of their last 19 regular-season games, were done in by a popgun offense that has repeatedly fizzled in the red zone. They had to settle for a field goal by Cairo Santos on their first trip and Alex Smith threw an interception in the end zone midway through the fourth quarter.
Smith was 23 of 30 for 268 yards in another inconsistent performance, while Spencer Ware was bottled up much of the afternoon. The bruising running back finished with just 69 yards rushing.
WINCHESTER PLAYS
Chiefs long snapper James Winchester played one day after the funeral for his father, Michael, who was shot to death at an Oklahoma City airport on Tuesday. Police believe the elder Winchester, an employee for Southwest Airlines, was gunned down in retaliation for losing his own airline job.
HOUSTON RETURNS
Chiefs linebacker Justin Houston made his season debut , though he hardly factored into the game. The four-time Pro Bowl pick has been out after surgery in February to repair the ACL in his left knee.
INJURIES
Buccaneers: Starting cornerback Brent Grimes left in the first half with a quad injury and did not return. Backup offensive lineman Ben Gottschalk left with a knee injury.
Chiefs: Outside linebacker Dee Ford, the NFL sack leader with 10 coming in, did not play in the second half with a hamstring injury. Peters (hip pointer), starting defensive tackle Jaye Howard (knee) and wide receiver Jeremy Maclin (groin) were inactive.
UP NEXT
Buccaneers: Return home next weekend to take on another Super Bowl favorite, Seattle.
Chiefs: Head to Denver for a Sunday night showdown between AFC West contenders.