Jameis Winston on losses: 'It's my fault every single time'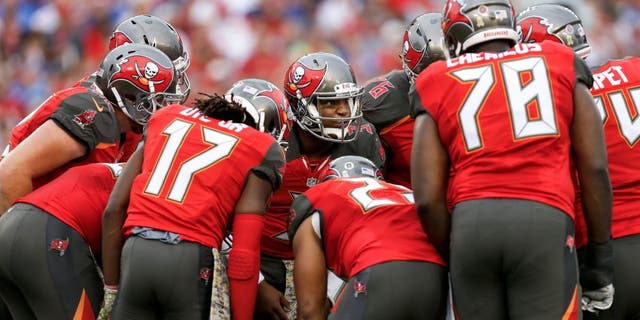 Jameis Winston has never had an issue stepping up as a leader. That stands true once again when talking about the Tampa Bay Buccaneers' Week 9 loss to the New York Giants.
According to Andrew Astleford of ESPN, Winston was more than willing to take the blame, just as he always seems to if his team can't find a way to win.
"It's my fault every single time," the rookie quarterback told ESPN when asked about missed opportunities in Sunday's 32-18 loss to the New York Giants. "But the thing you've got to focus on is how hard we are playing. We're playing our tail off. It's two back-to-back games where we're just out there giving it our all. Eventually, we are going to break through. Eventually, it's going to happen."
While Winston was quick to take the blame, it's obvious that he had a strong showing, tossing for 249 yards, rushing for a touchdown and not throwing an interception once again.
As Astleford points out, when your No. 1 running back totals just 31 yards and your top receiver drops as many passes as Mike Evans did, it can be tough to come out with a victory. Regardless, it's good to see Winston step up (once again) as a leader.
MORE NEWS: Want stories delivered to you? Sign up for our NFL newsletters.