Jameis Winston confident, but focused on improving moving forward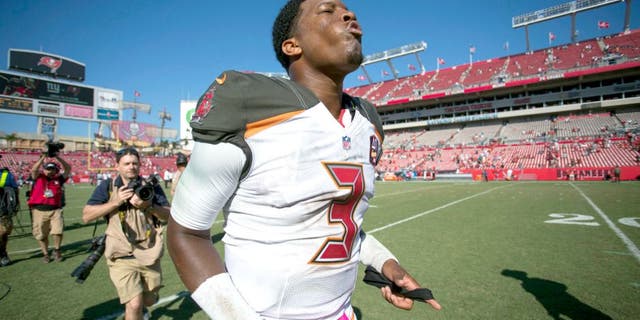 NEWYou can now listen to Fox News articles!
Jameis Winston knows that there's still plenty of growing to do, but the Tampa Bay Buccaneers are off to a 2-3 start, and look like they're on the verge of potentially turning the corner.
One man who has plenty of confidence at this point, is Winston himself. According to Fred Goodall of The Associated Press, Winston stated that the team has plenty of players who can make plays, but that he personally needs to take care of the football.
"If you look at our offense, we have guys that can make plays," the 21-year-old said. "The quarterback just has to take care of the football."
While Winston has thrown seven interceptions, four of them came in the same game. On top of that, the two wins for Tampa Bay this season have been the two games in which Winston didn't throw an interception.
Winston was excited about the Week 5 victory and avoiding a turnover, but he also knows that it was only one game.
"Any time you get a victory and don't turn the ball over, it's a big positive," the rookie added. "But it's just one game. … I still have to get better. We have to still get better as a team."
(h/t The Washington Times)
MORE NEWS: Want stories delivered to you? Sign up for our NFL newsletters.