Jamaicans eye solid-gold party on London home turf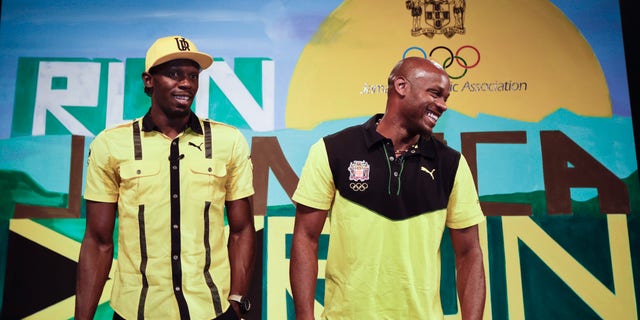 The Jamaicans of London have got their soul food sizzling, their Red Stripe on ice and their expectations sky high.
They're ready for what they hope will be a solid-gold weekend celebration featuring Usain Bolt and other world-class sprinters from their Caribbean island nation.
"Jamaicans are very optimistic. We almost see this as a home game," said Clive Saunders, a community leader for the nearly 1 million Britons of Jamaican descent, most of whom are preparing late-night parties in London parks, Olympic venues and homes for the women's 100-meter finals Saturday and the men's 100 meter Sunday.
At the last Olympics four years ago, Jamaican sprinters cemented their status as the world's fastest. The women took all three medals, while Bolt set a new world record, a mark he's bettered since. This time Jamaicans are hoping for an even more dominant show, with Jamaican women positioned for a second clean sweep and Yohan Blake hot on Bolt's heels for the title of world's fastest man.
Many are predicting the greatest national hangover in Jamaican history on Monday, when the former colonial possession celebrates its 50th year of independence from Britain.
"We'll all be gettin' the rum out tonight, and Saturday, and Sunday!" declared Gorgeous Williams, a 43-year-old woman selling jerk chicken at a London food stall.
Desiree Lewis, a 30-year-old nurse, was hefting three overflowing bags of groceries home Friday on a London bus. Her stockpile of yams, grits, cornmeal and canned callaloo was testimony to the many Jamaican bellies she'd have to fill this long, raucous weekend.
"My young boys think they're British. We're going to make them proper, proud Jamaicans this weekend," said Lewis, who immigrated as a child to London. "We're surrounding them with everything Jamaica. All our cousins from Birmingham (England's second-largest city) are crashing in our flat this weekend. We've family here from Kingston (Jamaica's capital) too."
Richie Bailey, a 26-year-old bicycle courier taking a break to watch the Olympics on a cafe TV, was displaying his Jamaican pride with a Rastacap bearing the island's colors of green, yellow and black. He predicted that Bolt would put the upstart Blake into his rightful second place and leave the foreign competition a pitiful speck on the horizon.
"My man Bolt is gonna beat them bad, man," he said. "This weekend, Jamaica is gonna be the most powerful nation on earth."
Indeed, these next few days could be among the most special in the history of Jamaica, a nation of fewer than 2.9 million people, mostly descendants of slaves brought from Africa to work the island's sugar plantations.
"Without a shade of a doubt, this is as big as it gets for all Jamaicans," said Ernie Harriott, a.k.a. Daddy Ernie, who hosts a nightly reggae show on London station Choice FM and has been centrally involved in the past week's Olympic-related parties for the London Jamaican community.
He noted that the festivities have been magnets for "Jafakins," people who want to be accepted as Jamaican for the occasion.
On Monday, the nation celebrates its Aug. 6, 1962, independence from Britain, a moment accompanied by soul-searching over whether to loosen the ties that still bind Jamaica constitutionally to its former colonial master.
Elizabeth II remains queen of Jamaica, its symbolic head of state, but the 7-month-old government of Prime Minister Portia Simpson Miller says the time is coming when Jamaica will declare itself a full republic and the British monarch will no longer grace the nation's money.
Jamaica first plans to break a key legal link to Britain by switching the nation's highest court of appeal from faraway London to the neighboring island nation of Trinidad.
For Saunders, a 56-year-old London management consultant who immigrated to London as a teenager, these Olympics represent a moment when the city's Jamaican minority can feel most at home in their adopted land.
"There was lots of overt racism when I came here in the 1970s. It's no longer like that. Jamaicans are much more integrated into the wider community," said Saunders, who leads a charity helping Caribbean residents. "But we still face discrimination in employment, in more subtle ways. So these Olympics present an opportunity for us to step aside from the troubles of daily life for a moment, before we go back to the real world."
The weekend parties include Friday's official opening of Jamaica House, a sold-out venue in the riverside O2 Arena featuring Jamaican music and food, and informal parties in Hyde Park.
For Daddy Ernie, who's emceeing the Sunday party at Jamaica House alongside performances by Damian Marley, son of late reggae great Bob Marley, nothing will top the showdown between Bolt and Blake -- or the generosity of Jamaicans this weekend.
"It's going to be an open-door policy -- where every home has the rum and Red Stripe going, every telly (TV) will be tuned to the athletics, and the rice and peas and jerk chicken, the saltfish will just keep coming," he said. "It'll be better than Christmas."
Once the 100-meter frenzy is past, there'll be little time to rest. Jamaicans also could medal in the 200 and 400 meter events next week.
And after the Olympics, on Aug. 16, Jamaicans plan to fill Emirates Stadium, home to Arsenal soccer club, for an independence dinner hosted by the Jamaican prime minister. The dinner honors two of the nation's greatest sprinters: Merlene Ottey, who won an incredible nine track medals at five Olympic games from 1980 to 2000; and Don Quarrie, who won four Olympic medals from 1976 to 1984 and today serves as the technical manager for the Jamaican track and field team.
After that, it's back to the usual Jamaican-led celebrations, including the Notting Hill Festival on Aug. 26-27 that's the second-biggest street party in the world next to Rio's Carnival.